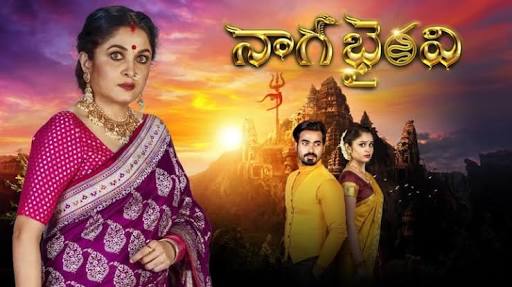 Naga Bhairavi Upcoming Story, Spoilers, Latest Gossip, Future Story, Latest News and Upcoming Twist, on Justhowbiz.net
Episode starts with Sanvi asks what happened Doctor. Doctor says it's Mysterious case, all her test reports are normal and she don't have any health issues so we are unable to tell what happened to her so only god can save her from this situation and he leaves from that place. NagYogi enters to hospital and goes to Shakuntala room, other family members tries to enter along with him but he stops them.
NagYogi notices Shakuntala state and goes out from her room. Arjun says that day you make me do Shiva Pooja to save Bhairavi and please do something to save my mother life because Doctors are unable to tell what's her problem do answer us. NagYogi takes Arjun with him to aside and says your Mom is facing Grahadosha pariksha. Arjun asks what it means. Yogi says your family have NagDosham and that's the reason your Mom is suffering. Arjun asks him to tell remedy to escape from NagDosham. Yogi says it's like curse and won't get cured with Poojas and Doctors can't save your mother.
Arjun asks him to tell how to save his mother. Yogi thinks about it and says their is one solution but you can't do it. Arjun says he can even risk his life to save his mom and he begs Yogi to tell that solution. Yogi says their is Shivalayam at Nagavaram and you have to get Nagmani from that temple to keep it near your Mom's forehead than you have to perform Poojas to that Nagmani for 3 pournamis for NagDosham than your Mom will get cured, tomorrow is pournmi so get it immediately to save your mother. Arjun says he will get it. Yogi says it's not easy because it's outers can't be allowed in that temple and powerful snakes guard that temple and it's not easy to get that money and only people who have God blessing can get it. Arjun says he will do anything to cure his Mom. Yogi leaves from hospital.
Annapurna calls Arjun and tells him that Bhairavi is not changing her decision and she is adamant to marry Rudra and I feel Veerabhadram might did something and he is planning Bhairavi and Rudra marriage this evening itself and I don't know how to stop this marriage. Arjun says don't worry, I'm coming to that place and will talk to Bhairavi. Annapurna says ok, how's Mom. Arjun says don't worry will tell you everything once I came to home. Sarthak asks Arjun what Yogi told him. Arjun asks them to take care of Shakuntala and goes out.
Bhairavi goes to Veerabhadram in tears and tells him that i agreed to marry Rudra so don't harm my brother and leave him. Veerabhadram says don't cry because you're bride. Bhairavi says she wants her brother to perform her marriage. Veerabhadram says your brother won't agree for this marriage so I won't release your brother until you get married to Rudra so go and take rest. Bhairavi goes inside in tears.
Jalaja and Rudra notices Bhairavi state and they questions how he make Bhairavi agreed for marriage. Veerabhadram says you guys will get to know this secret after marriage so arrange for marriage, I'm going to meet Mata. Aditya feels thirsty. Veerabhadram men makes him drink water. Aditya questions who are you? Why you bought me here? Are you guys threatening my sister? Men warns Aditya to stay silent. Aditya warns to kill them if they harm his sister. Men smiles saying he can't do anything. Aditya says I will give you 10times more money so leave me, it's been 2years since I met my family. Men asks him to shutup and goes out. Aditya and Bhairavi cries badly thinking their situation.