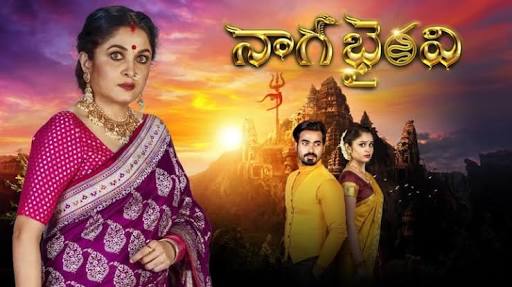 Naga Bhairavi Upcoming Story, Spoilers, Latest Gossip, Future Story, Latest News and Upcoming Twist, on Justhowbiz.net
Episode starts with Veerabhadram goes to Vishwambari and tells her how her idea changed his life and he informs her that Bhairavi agreed to marry my son that's why I decided to marry them today evening only. Vishwambari says you're doing wrong by performing marriage on bad time so don't do it today because Bhairavi horoscope is good and she have Daivik powers but if she gets married in bad time than her horoscope may not support us to enter temple so wait for today and perform their marriage tomorrow, once she gets married than we can enter temple with Bhairavi help and you can become a rich person with treasures in temple and I will get my youthful appearance with help of Talapatras. Veerabhadram asks if she won't need treasure? Vishwambari says youthful looks are more important than Money. Veerabhadram says ok Maata, let's enter temple once Bhairavi gets married to Rudra. Phanidra says your attempts won't get successful because God won't support evils like you. Vishwambari says that's why we are going to enter temple with Bhairavi help. Malli says we won't let you enter temple and we will kill you and save temple and Bhairavi. Vishwambari gets angry and punishes them.
Bhairavi sadly sits at home. Arjun reaches to Bhairavi place and goes inside and calls Bhairavi, she feels happy seeing him and runs towards Arjun but stops in the last minute remembering Veerabhadram warning and about to go back but Arjun stops her and asks what happened, why you're unable to talk to me? This is not correct time for me to come to this place but I came for you, why you want to marry a person like Rudra? It's fine if you don't marry me but don't marry person like Rudra, tell me why you agreed for this marriage? Tell me if anyone threatened you? What's the reason behind your change. Bhairavi says their is reason but I won't reveal it you. Arjun says Tell me so I can help you to solve it, currently I'm in problem because my Mom is in critical stage. Bhairavi asks what happened to Shakuntala. Arjun tells her how he have to get Nagmani from temple to cure his Mom state. Bhairavi says you may die if you enter that temple. Arjun says I know but I don't have any option left. Bhairavi asks him to don't enter the temple. Arjun says please don't stop me in this matter.
Annapurna comes to them and she asks Arjun to make Bhairavi understand. Arjun says Bhairavi is not listening to me also. Kaushalya asks Bhairavi to listen their words. Bhairavi stays silent. Annapurna asks if she won't respect their words. Bhairavi says I already told you that I will marry Rudra. Arjun asks her to understand their version. Veerabhadram comes to hall with his family and Rudra asks Arjun to leave from home. Arjun says it's my Grandmother house and I have rights. Veerabhadram says your family lost the rights when father in law died so leave from here because your father is criminal. Arjun warns to kill Veerabhadram if he talks ill about his dad. Both struck in verbal fight. Bhairavi stops them and asks Arjun to leave. Arjun sadly leaves from that place. Bhairavi feels bad.
NagRani can sense the pain of Nagini and she informs to her husband that their daughter is in danger. NagRaj closes his eyes and tries to locate Nagini and Phanidra through his powers but it won't happen than he tells to his wife that some evil power is behind their dissaperarance that's why we are not getting any clue about their place.
Precap – Bhairavi informs to Shakuntala that she is going to temple along with Arjun and she leaves from home.