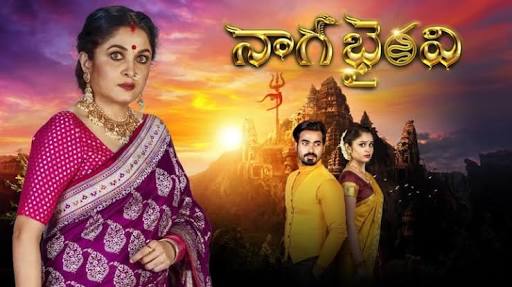 Naga Bhairavi Upcoming Story, Spoilers, Latest Gossip, Future Story, Latest News and Upcoming Twist, on Justhowbiz.net
Episode starts with voice over explains the importance of the Nagvaram temple and how Nagbhairavudu becomes Rudra to kill the people who entered temple, temple had 3 entrances and first one is Nagarakasha prakaram guarded by Snakes and key is under Ganesh idol and people who impresses Ganesh will get the key to open this door their will be Mani which can cure Shakuntala health and Next entrance is KalaBhairava prakaram, which is guarded by Dogs and key is under Subramanian and who impresses him will get the key, third entrance is Rudra Bhairava Prakaram and this key will be at Nagraj and one who will impress Nagraj can get key from Nagraj and can enter the temple to see the Lord Shiva lingam and what's inside will revealed in the future.
Arjun and Bhairavi starts their journey to temple. Veerabhadram brings clothes to everyone and gives them to Jalaja and hid son than he gives new clothes to Kaushalya aand Annapurna than he calls Bhairavi. He didn't get any response. Kaushalya feels tensed. Jalaja asks Bhairavi to come out to take her wedding saree. Veerabhadram questions what's Bhairavi doing inside? Kaushalya says Bhairavi is sleeping so give that saree to me. Veerabhadram says she may sleep if her marriage is with Arjun but she won't sleep because she us going to marry my son, why you're feeling tensed? Is Bhairavi at home or not. Kaushalya says Bhairavi is at home. Veerabhadram asks her to bring Bhairavi. Kaushalya says Bhairavi is not at home. Veerabhadram and Jalaja questions where they sent Bhairavi. Annapurna says she didnt sent her anywhere. Veerabhadram threatens Kaushalya that he will kill Bujji if she won't reveal about Bhairavi. Annapurna says don't threaten her, I will bring Bhairavi. Kaushalya stops her and says Bhairavi went to temple with Arjun to get Nagmani for Shakuntala attayya health. Veerabhadram questions why didn't you stop her? Than he goes out.
Arjun and Bhairavi goes to first entrance of temple. Snake guards warns them to leave from temple. Arjun says I entered the temple after knowing the danger. Snakes are about to hurt him but Arjun handles them showing magical wand given by Shivudu. Vishwambhari feels happy. Arjun drops the wand when stone fell in his hand, snake throws Arjun in swamp and hits Bhairavi with its tail. Bhairavi fells down than she goes to help Arjun and she tries to give her hand to Arjun but he can't hold it, she goes to search something to pull Arjun out. Vishwambhari notices everything from her hiding spot.
Precap – Veerabhadram forcefully drags Bhairavi with her. Bhairavi feels worried for Arjun. Nayani on way to help them.