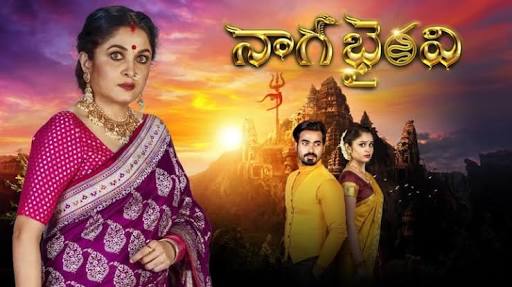 Naga Bhairavi Upcoming Story, Spoilers, Latest Gossip , Future Story, Latest News and Upcoming Twist on JustShowbiz.net
Episode starts with Bhairavi tries various ways to pull out Arjun from swamp but her attempts won't get successful. Vishwambari gets shocked seeing everything. Veerabhadram searches for Bhairavi in the temple area. Garuda informs to Vishwambari that snakes got escaped from her Garuda Bandam. Vishwambari asks how it happened. Garuda says some god helped them and that Phanidra is coming here to stop you. Vishwambari says he can't reach here until I entered the temple so stop him with your powers. Garuda agrees.
Phanidra enters near temple. Garuda warns him to leave. Phanidra says he can't stop him than Garuda attacks him with his claws. Phanidra fights with Garuda, Garuda gets injured in the fight than Phanidra goes inside the temple.
Veerabhadram founds Bhairavi and questions what's she doing at temple in the night time. Bhairavi says Arjun is strucked in swamp, please save him. Veerabhadram says he may tries to stop your marriage with my son if I save him so come with me. Bhairavi begs him to save Arjun. Veerabhadram says let him die. Bhairavi says she have to save Arjun. Veerabhadram says you can't save your brother if you won't come with me so decide who's important to you and he drags Bhairavi with him to home.
Veerabhadram brings Bhairavi to home and throws her towards Annapurna, she holds her on time and shouts at Veerabhadram but he shouts at her to stop and tells to Bhairavi that he will break her legs if she move from house and he warns others to not allow Bhairavi to go outside until she gets married and he goes inside. Jalaja scolds Bhairavi for going to meet Arjun. Rudra asks his Mom to stop but She scolds him and sends him inside than she asks Bhairavi to understand Rudra care and goes inside.
Bhairavi runs to her room in tears. Annapurna and Kaushalya, Bujji follows her. Annapurna says why are you crying when you're the one who locked our hands with your decision. Kaushalya says still we didn't get why you wanted to marry Rudra. Annapurna says you're the reason why they are treating us in this way so tell us why you wanted to marry Rudra instead of Arjun? Otherwise I will kill myself. Bhairavi stays silent. Annapurna brings cloth to hang herself than Bhairavi stops her and reveals Aditya brother is alive. Everyone gets shocked.
Annapurna says we performed his last rites than why you're saying in this way. Bhairavi says it's true, brother is alive, Veerabhadram misguided us with duplicate body and brother is in Veerabhadram custody and he threaned me to marry Rudra to save my brother that's why I agreed to this marriage. Kaushalya asks if her husband is really alive. Bhairavi says true. Annapurna says why to get scared after knowing Aditya is alive, let's teach lesson to Veerabhadram. Bhairavi says stop it granny because Veerabhadram Mavayya may kill Brother if he founds that I revealed truth to you. Kaushalya asks if she is spoiling her life to save her brother.
Episode ends.