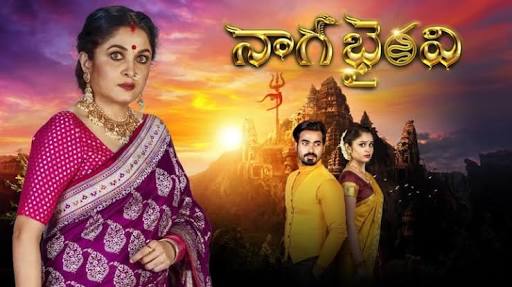 Naga Bhairavi Upcoming Story, Spoilers, Latest Gossip, Future Story, Latest News and Upcoming Twist, on Justhowbiz.net
Episode starts with Annapurna wants to confront Veerabhadram but Bhairavi stops her saying It's risk for Brother life if Veerabhadram Mavayya gets to know I revealed this truth to you. Kaushalya says don't know what to feel after knowing this truth, you're spoiling your life to save your brother. Bhairavi says I have many moments with my Dad in the same way Bujji must have his moments with his Dad so I will do anything to get back my Brother for you and Bujji. Kaushalya hugs her in tears. Bhairavi remembers Arjun's condition and she goes out from room saying she have some work. Arjun fights for his life in swamp. Aditya tries to remove his ties but couldn't than he thinks how to save my Bhairavi? Than he prays Lord Shiva for help to save his sister.
Nayani gets flashes of Aditya place and Bhairavi forceful marriage with Rudra than Nayani thinks girl life may get ruined if it happens in this way than she runs to save Aditya for Bhairavi life. Nayani reaches to the house where Veerabhadram and his men captivated Aditya, she goes to Aditya room and release him by untying the rope. Aditya questions her who's she. Nayani says im normal person like you.
Aditya says she is his god. Nayani says let's go because your sister life is in risk and we have to escape before Goons wakeup from their sleep. Both runs out from that farm house. Aditya thanks Nayani for her help. Nayani says thank god because he is the one who sent me here to save you and go to your place and save your sister. Aditya goes. Goons notices Aditya is missing and they rushes to search him.
Bhairavi goes to Pooja room and she tells to Lord Shiva that Arjun entered temple for his Mom's health and he don't have any ill intentions and I can't bear if something happens to Arjun and she begs Lord Shiva to save her Arjun and she chants om Namah shivaya Mantra in tears. Arjun about to sunk in Swamp but he gets Magical wand because of Lord Shiva blessings and he can easily comes out from Swamp and it takes Arjun near temple.
Arjun enters the temple and he notices locked door of Nagraksha prakaram guarding by snakes and he thinks where to get the key that time Rat crosses his feet and he follows it and notices the Ganesh idol and he didn't know what to do than He prays Lord Ganesh to help him to found the key of entrance to save his mother.
Precap – Arjun will get the Key of Naga Raksha prakaram with Lord Ganesh blessings.