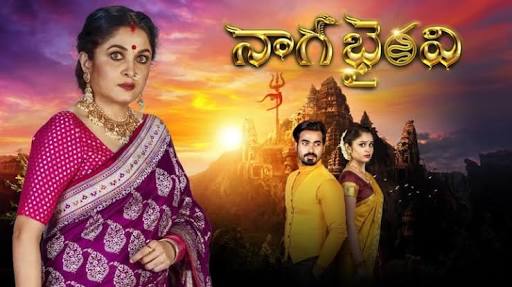 Naga Bhairavi Upcoming Story, Spoilers, Latest Gossip, Future Story, Latest News and Upcoming Twist, on Justhowbiz.net
Naga Bhairavi 8th April 2021 Written Update On JustShowbiz.net
Episode starts with Nagulu fights with Arjun to get Mani but Arjun won't leave that Mani and runs from that place, Nagulu again caught him this time Arjun throws him from stone and runs from that place. Nagulu gets hit by stone. Sanvi and others goes to Shakuntala room and they feels worried regarding her health. Sarath says don't know where Arjun went leaving your Mom in this situation. Sanvi says Nagasaduvu told something to Arjun that's why he went out. Sarath asks Sanvi to call Arjun but his number is not reachable. Doctor sends Sarath and Sanvi to outside of room.
Arjun runs hurriedly to save his mother but Vishwambari stops him in the middle and asks him to give her the Mani to save his life. Arjun says don't threaten me because I won't get threatened with your threats, I bought this Mani to save my mother. Vishwambari says first think about your life. Arjun runs from that place saying she can't do anything. Vishwambari asks her eagle to get Mani from Arjun. Eagle tries hard to take Mani from Arjun but he beats that eagle runs from that place. Vishwambari tries to stop Arjun with her powers but she can't harm him because of Mani and her powers surrounds her than she gets shocked thinking what's happening.
Arjun comes to Shivayya and tells him that he got the Mani with his help and leaves after thanking Shivayya. Shivayya thinks you did some mistake in last birth and now also you did another mistake without your knowledge while trying to save your mother " it's shown that Nagulu is seriously injured because of Arjun". Shivudu thinks Arjun
have to face the consequences and only that God Shiva can save him from the struggles he gonna face in life.
On the way Aditya takes someone phone and calls to Kaushalya and tries to tell her that he is alive but she couldn't hear voice because of signal problem. Veerabhadram notices Kaushalya is talking to someone than he takes phone from Kaushalya and goes aside to get signal than Veerabhadram hears Aditya words that he gets escaped from Veerabhadram men because of one lady help and coming to stop Bhairavi marriage with Rudra. Aditya runs from that place seeing Veerabhadram men are following him. Veerabhadram gives phone to Kaushalya after switching it off and tells her it's wrong number.
Veerabhadram calls his men and questions them how Aditya got escaped. His men tells they are behind Aditya. Veerabhadram says catch Aditya immediately and if it's not possible than kill him. His men agrees. Veerabhadram asks Jalaja to call everyone. Jalaja calls everyone to comeout. Veerabhadram tells them that he decides to perform marriage immediately and he asks them to get Rudra and Bhairavi ready for marriage. Annapurna and Kaushalya cries seeing Bhairavi state. Veerabhadram warns them to ready Bhairavi quickly saying Pandit is arrived. Veerabhadram goes to his son room and tells his wife that they can get everything once Rudra married to Bhairavi. Aditya hides from Veerabhadram men. Annapurna says you're ruining your life to save your brother but don't know how to stop this marriage. Bhairavi in tears says this marriage must happen to save Brother life.
Episode ends.