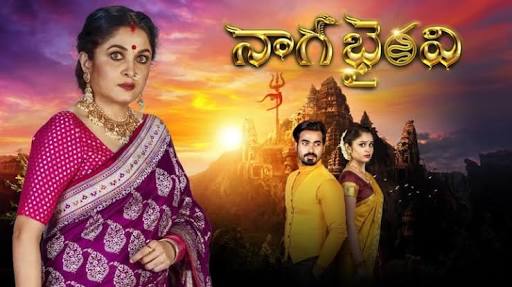 Naga Bhairavi Upcoming Story, Spoilers, Latest Gossip, Future Story, Latest News and Upcoming Twist, on Justhowbiz.net
Episode starts with Kaushalya says you're spoiling your life for your brother. Bhairavi says her brother is important to her than her life. Annapurna says you're sacrificing for your brother and we don't know how to stop the marriage. Bhairavi says this marriage must happen to save Brother life. Aditya comesout from his hidden spot and he get hit by car lost his consciousness. Bhairavi asks Kaushalya to get her ready for marriage. Everyone cries seeing Bhairavi situation. Pandit calls Groom to the mandap. Rudra asks of he can marry this time? Veerabhadram says noone can stop this marriage and he happily takes Rudra to Mandap. Pandit makes Rudra perform Varpuja than he asks Jalaja to bring bride.
Jalaja brings Bhairavi to Mandap and praises her beauty. Bhairavi feels bad reminscing her past moments with Arjun and she apologies to Arjun in her heart for choosing her brother over him than she thinks Lord Shiva might be saved Arjun otherwise I might died if something happens to Arjun. Annapurna cant see the Bhairavi marriage with Rudra than she goes to Mandir room. Veerabhadram thinks seems like this oldie is dreaming that God will stop the Marriage but she don't know that noone can stop this marriage.
Annapurna in tears begs Lord Shiva to save Bhairavi from this marriage and she tells him that I'm helpless to stop this marriage but why you're not stopping this crime? These wicked people are trying to ruin Bhairavi life so please save her, she continuously beats her head near Shiva lingam and lost her conscious. Aditya regains his conscious and runs to stop the marriage of Bhairavi.
Pandit sends Rudra and Bhairavi to change their clothes. Veerabhadram gets call from his men and they informs him that Aditya is escaped from them. Veerabhadram gets shocked. Bhairavi asks Veerabhadram to make her talk with her brother before marriage. Veerabhadram denies. Bhairavi tells him that she won't marry Rudra if he won't let her talk with her brother. Veerabhadram fake calls his men and asks them to kill Aditya. Bhairavi gets shocked than she begs Veerabhadram to leave her brother and agrees to marry Rudra.
Bhairavi sits in the mandap. Veerabhadram thinks marriage must happen immediately before Aditya reaches to home than he asks Pandit to rush the marriage. Annapurna gains and goes out. Pandit asks Rudra to tie the Mangalsutra to Bhairavi. Rudra holds Mangalsutra and reminsces how Arjun stopped him previously. Veerabhadram scolds him to tie the Mangalsutra. Bujji stops Rudra and tries to snatch Mangalsutra. Veerabhadram throws Bujji from Mandap and he asks his son to tie the Mangalsutra. Annapurna tries to stop Rudra saying don't ruin Bhairavi life. Jalaja warns her to stay away. Aditya reaches to home. Veerabhadram men caughts him. Bujji notices his Dad at entrance of the gate and feels happy.
Episode ends.