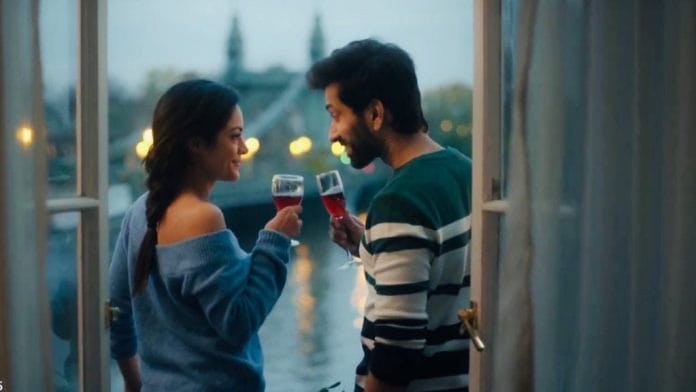 The year of 2020 has begun and it is already giving good shows in the kitty of the audience to cheer for. Along with TV shows this year the web series has a lot of content to offer to the audience who is in always search for good and variety content. We already have a list of so many popular TV stars making a comeback through web series this year and the latest name in that list is Nakul Mehta.
This handsome talented actor was last seen in the popular daily of Star Plus "Ishqbaaz" produced by Gul Khan and 4 lions production house. Since the show went off air the actor took a break from the screen however the indications of his coming back was there when people got to know about he being part of a web series which will be streaming on Zee 5.
Hence the much awaited trailer of the web series was released by Zee 5 official handle on Twitter and the trailer of "Never kiss your best friend" had already made people go crazy about the storyline along with the new and fresh look of Nakul in the series.

Unlike his character 'Shivaay' in ishqbaaz, this time the actor will be seen in a happy go lucky character called "Sumer". There is no doubt that Nakul is looking really different and much younger in this series which is already very refreshing. The story is based on two friends who met at an unlike point of life with each other Sumer and Tanie. They meet and become friends and then this friendship becomes more deep which made them best friend of each other. Unlike so many love stories, this series will focus on two different persons are being friends of each other in a best manner way without indulging in the feeling of love.
The myth of two opposite gender people can't be friends among each other needs to be broken at a point and this series hopefully brings the much needed change in this. The love one can have for their best friend can be shown without making it physical or emotional necessity.
Anya Singh who was featured in many advertisements and short films will be seen opposite Nakul in this web series. The story will stream in the OTT platform of Zee5 dated on 20th January 2020. Armaan Malik has given his voice for the title track of the show and along with these two many renowned actors will be seen in the series in different characters
. The show is launching with the tagline of 'Cherish your old friends, celebrate your new friends, but #NeverKissYourBestFriend . So this season let us fall in love with our best friends all over again and cherish the company they offered in our life. We wish the team all the very best. Are you excited to see the story of Sumer Singh Dhilon and Tanie Brat unfold?
Keep watching this space for more such interesting updates.