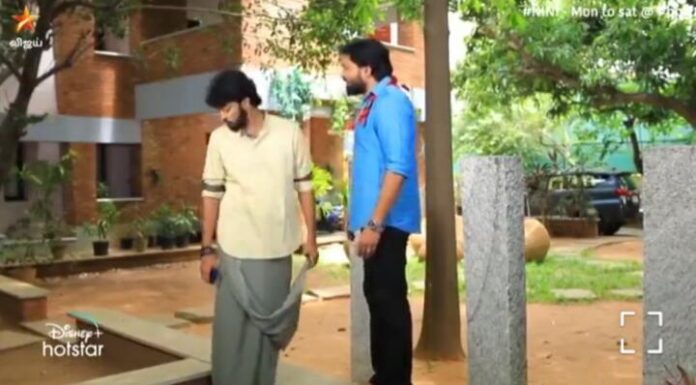 Naam Iruvar Namaku Iruvar Upcoming Story, Spoilers, Latest Gossip, Future Story, Latest News and Upcoming Twist
Vijay tv fame Nam Iruvar Namak Iruvar successfully completed the first season of it . Now they launched the  second season. As expected its doing well and maintaining  the good response from audience . Second season revolves around Mayan and Maha love story one side and how Mayan gonna fullfill the condition on his father's will.
This story revolves around Mayan and Nachiyar family
In previous episode we saw how Surya threaten Mayan for money. Kathi gave an idea to him to help Saranya and in return ask money to her. She signed the cheque after hearing Mayan's request she tore it. Nachiyar turned down Vadivu reaquest . Surya called to Rathinavelu when he couldn't reach Mayan . Vadivu met her brother Masani and planned to ruin Gayathri alliance.  Mayan scolding Kathi for chatting with his sisters.
In latest episode Mayan informing to Kathi about Surya black mailing him. Kathi gives an idea to him to get money from gold finance placing his father gold. He hesitated first and agrees. Vadivu and Chidambaram visit Gayathri would be house for alliance talk. Vadivu keep  provoking them indirectly  to think twice to perform this alliance . They too fall for her twisted words and says they will check the horoscope again. Mayan goes to Jewels shop to borrow money . Owner informed this news to Nachiyar . She asked him to lend the money to him . Her daughters question to her about her bad mood. She confess to them about Mayan act .
What will happen next ? Will they inform this to Maha or Surya will confess the truth to them. Upcoming episode will answer to our all questions stay tuned with our space for more updates.