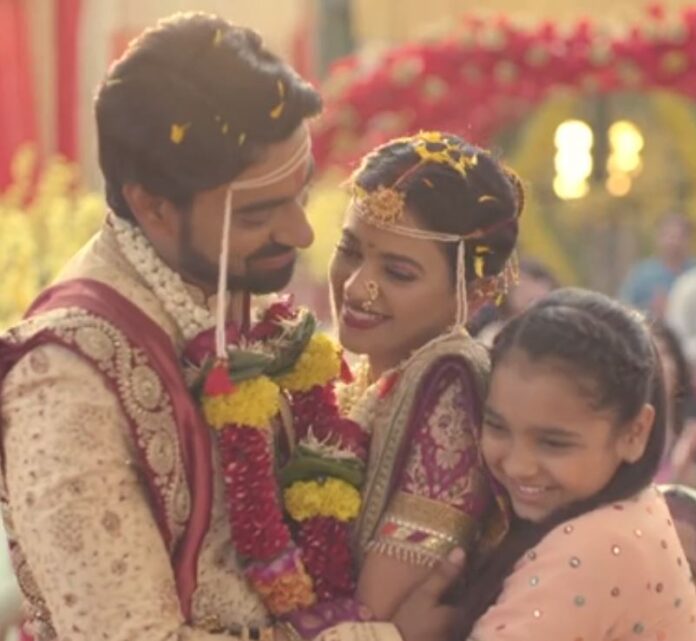 Namak Issk Ka Upcoming Story, Spoilers, Latest Gossip, Future Story, Latest News and Upcoming Twist on Justshowbiz.net
Colors TV popular show "Namak Issk Ka" is witnessing a lot of twists and turns after Yug fell in love with Kahani. Family's words are not affecting or stopping Yug from inclining towards Kahani. Other side, Iravati is busy gaining more powers to defeat Kahani.
In the last episode, Yug and Kahani had a romantic talk on call in midnight. Next morning family tried stopping Yug from going outside, but did listened to anyone.
So before Yug stepped outside, Saroj intentionally hurt herself to stop him. At hospital when Yug and Rani got worried for making Kahani wait. Whole family blamed Yug for Saroj's condition. Other side Kahani got tensed waiting for Yug at the mandap.
In the upcoming episode, Kahani being worried will wait for Yug. Guests will talk ill about her and say that groom didn't came because bride is dancer. Other side Gunjan and Daadi will not let Yug leave tell hospital. In mandap Kahani will lose hope and remove the bangles thinking Yug betrayed her.
She will ask Pandit Ji to give her a curse that she never be able see any dream in her life, never believe anyone, never love anyone and Yug never come in front of her. Yug will stop Kahani from leaving the mandap. Yug will recall how with Rani and police officer's help he left the hospital.
Next Yug will himself take Kahani to the Mandap and Rani will too reach there. Yug will make Kahani wear the bangles she removed. Before applying vermillion to Kahani, Yug will confess the pain he and his family gave to Kahani. He will further say that Kahani showed him the right path.
Yug will tell Kahani about Saroj being in hospital. He will say that he realized that he is just a stubbornness for Gunjan and Saroj rather than worry or love. Yug will
say to Kahani that she is his love. He will seek permission from Kahani to marry her. Kahani will agree and Yug will apply Vermillion in her hairline.
Yug will make Kahani wear a flower-made mangalsutra. They will take the wedding vows/pheras and finally get married. Yug will hug Kahani and Rani will join them. Saroj will wake up and ask for Yug. She will realize that went to marry Kahani.
We in our earlier post informed you about the latest promo, which showed that Iravati will return with a new plan against Kahani, See Promo:
How will Yug and Kahani make Rajputs accept Kahani as their younger daughter-in-law? What is Iravati's new plan against Kahani? What will be Saroj's next step?
Stay tuned to justshowbiz to get more updates from your favourite show Namak Issk Ka!