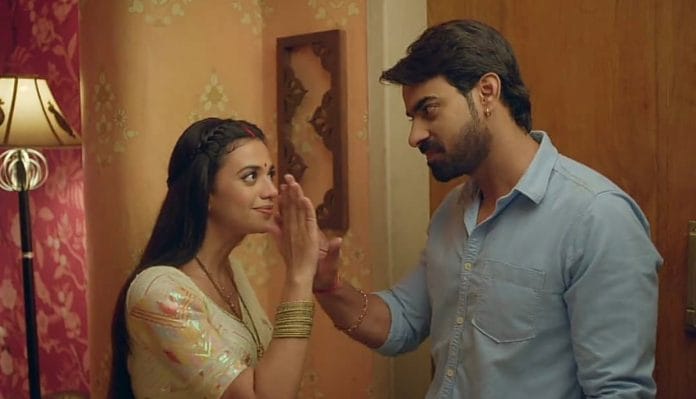 Namak Issk ka Spoilers, Upcoming Story, Latest Gossip , Future Story, Latest News and Upcoming Twist on Justshowbiz.net
Colors TV show Namak Issk ka is nearing its finale and things have started to unfold now. Kahani and Satya have joined hands in their fight against Iravati. Iravati's plan are failing again and again but she is ready with her final plan of killing Kahani and framing Satya for the murder. It will be interesting to watch how Kahani escape her plan and bring out Iravati's truth in front of everyone.
In previous episode Satya disguised as doctor to save Kahani from Iravati's evil plan. Yug asked Iravati where is Kahani? Iravati tells she was with grandmother. Yug tells Ravikant was worried because he couldn't find you in his room. Satya calls and tells Yug and tells him not to worry Kahani is with her. Yug tells everyone to sleep it's already too late. Kahani asks Satya how did she find her? Flashback shows how Satya was on call with Yug and she overheard Iravati telling Raunak to bring you to hospital so she rushed here. Kahani tells only a sister can do this for her. Satya tells first we should wait wor confirmation from doctor. Kahani tells reports doesn't matter because she has found her sister.
Yug comes to hospital and Kahani told him what Iravati was about to do. Yug came home and told someone kidnapped Kahani maybe because they wanted to kill her child.
Doctor told Yug that DNA reports will be there by night. Kahani is worried about Satya but Yug told her she is strong and she will handle it. Satya called Iravati and teased her how she escaped from her. Iravati found out the name of her hotel and decides to put Satya to end first.
Yug called Satya and tells Iravati is very dangerous and act only according to the plan. Satya thought Iravati is coming after so long so her welcome should be grand. Satya took out her gun and waits for Iravati. Rupa gave medicine to grandmother. Kahani told she is going to hospital. Rupa asked her if she can come with her but Kahani denied saying she doesn't trust anyone. Iravati told her plan to Raunak and Gunjan. Satya said Iravati ruined a lot of lives and today she will do or die.
Keep checking this space for latest updates on your favorite shows.