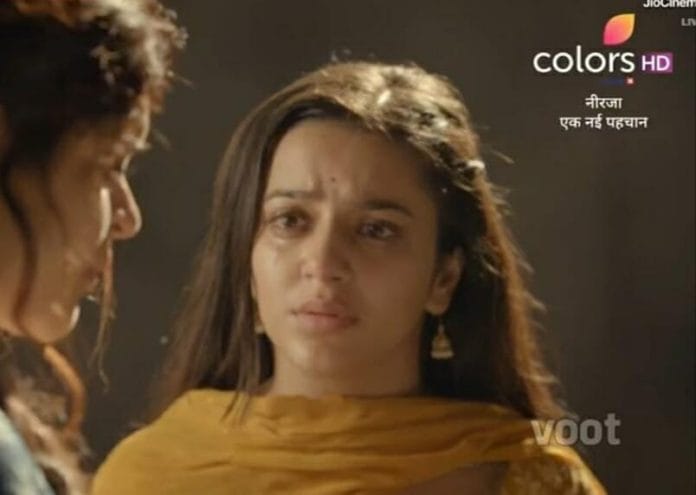 Neerja Spoilers, Upcoming Story, Latest Gossip , Future Story, Latest News and Upcoming Twist on justshowbiz.net

Colors TV's popular show Neerja is gearing up for drama in the upcoming episode with Neerja confronting Protima.
In the previous episode it was seen that Didun disclosed Protima's hidden truth to Neerja. The latter refused to believe Didun and raised the hammer to hit Didun. However Didun stated that the fact was Protima was a part of Sonagachi. Neerja claimed that Didun was lying and asked Sharmili and Chakri to say that Didun was lying.
However, they remained silent indirectly approving Didun's words. Neerja still refused to believe them and decided to ask Protima. On the other hand, Abhir was anxious about Neerja. He made a video call to Bijoy hoping to see Neerja, but he was disappointed about not being able to see her.
Later, Abhir was shocked when he saw a video of himself telling a poem to Neerja who was her wife. He questioned Satark about it. Neerja confronted Protima and asked her if she was really a nurse which shocked Protima.
In the upcoming episode it will be shown that Neerja will be broken after learning Protima's truth and will be walking on the road aimlessly. She will visualize Protima standing on the street wearing the red color saree and will shout no letting out her frustation, anger and pain.
In Sonagachi Didun will be informed that Protima cut her wrist in jail. Sharmili will blame Didun for Protima's death. Neerja will hear this and will be stunned.
What will happen next? Will Protima die? Will Neerja forgive Protima for hiding the truth from her?
To find out the answers to the above questions keep watching the show and stay tuned to this page for the exclusive update about your favorite Hindi shows.