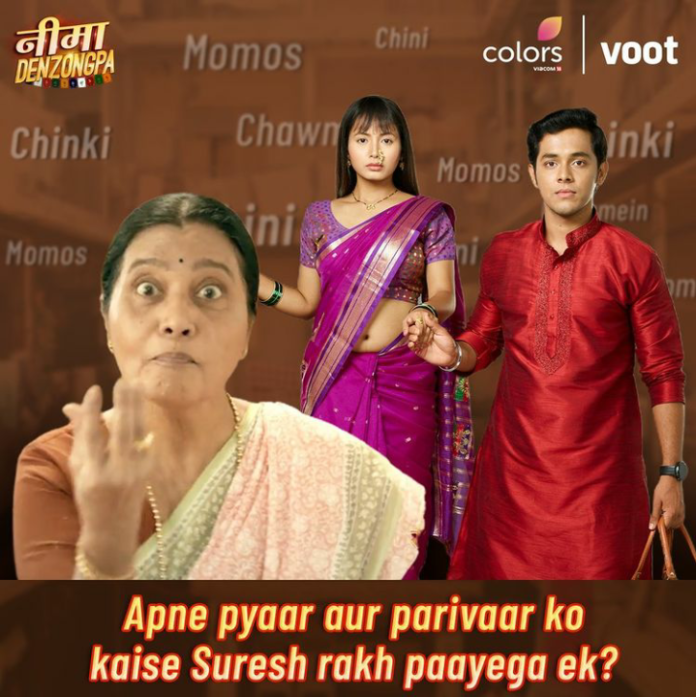 Nima Denzongpa Upcoming Story, Spoilers, Latest Gossip, Future Story, Latest News and Upcoming Twist, on Justhowbiz.net
Episode begins with Nima entering her house and Suresh sees it. He says my Nima is living just opposite my house? Sunita and Tulika come there. Sunita acts like she fell down so Suresh rushes to her. Nima is working at Suman's house. She brings dry fruits for Suman's daughter. She asks if she can eat it? Nima says yes.
Maaji calls Nima and says I told you to just give almonds to her grandson Paras but why did she give it to her grand-daughter Babita? Nima says I just thought to give it to her also. Maaji says it's against our rules. Paras is our heir so he will take our family ahead. For Babita, she will get married and soon will have her own family. How dare you bring these cheap modern thinking in this house? You won't come to our house from tomorrow, you are fired. Suman stops Nima and says nothing changes here, let things be. Nima says I am already fired. Suman says she won't even remember it, Baaky gets fired everyday. Just keep working like you do. Nima nods.
Tulika is dancing. Sunita comes to her and asks you are getting ready because you are scared that Nima is back? Tulika says what if Suresh knows that Nima has started living here?
Nima is at her house and the lights suddenly go out. She calms her daughters down.
Tulika sees the lights gone and tells Sunita that I will go and look for Suresh. Suresh is in the street. He goes near Nima's house and thinks she is outside. He holds her hand and says I am really happy to see you Nima. I was thinking about you only. I always dream about you. Life keeps bringing us together. Please forgive me once. The lights come back and Suresh is stunned to see that he is holding Tulika's hand and not Nima's. She looks at him with tears in her eyes. Nima comes out of her room and sees them. Tulika angrily leaves from there. Suresh runs behind her.
Tulika is packing her bag. Suresh says you are taking it wrongly. Tulika says I am sure Suresh must have got that house for Nima. Suresh says Nima doesn't even want to talk to me. Tulika says I married you when you had 3 kids, what did I get? I am still trying to be with you. I am not a weak woman, I will take my son and go away. Suresh says Varun is my life. Tulika says then prove it, I am scared of that woman. Promise me that you will forget that woman, that there will be no one in your life than me and Varun. Suresh gets tensed. Tulika says I will leave the house. Suresh stops her and says there is no one but you and Varun for me. Tulika says this is your last chance, if you do a mistake then I will leave with Varun. She goes to her room. Sunita asks Suresh to leave Nima behind, your life is with Tulika and Varun. Just take an off tomorrow and take her out, make her feel better. You will lose your family like this.
In the morning, Nima is worried about her youngest daughter who has a high fever. A neighbor comes there and says Sarla had to go to her village but I will take care of your daughter. Just go to work, I will keep you informed.
Nima is leaving the house. Tulika comes out and says Suresh we are getting late. Let's go and have a hangout. Nima leaves. Suresh comes to Tulika and says we will go out in a bit.
Maaji tells Baaky to cut her nails. Baaky says Suman is giving a free hand to Nima. I saw her using house phone. Maaji calls Nima and says you were using our phone? You think you own this place? Nima says my daughter is ill that's why I just called to ask about her. Baaky says you could have used your own phone. Nima says I don't have a phone. Maaji asks how many minutes did you use? Nima says 1 minute. Maaji says that means you have to give 2rs. Nima gives it to her. Maaji says don't do this ever again. Get lost. Suman sees all that and leaves. Suresh and Tulika are out in the city to enjoy their date. Tulika sees Nima in every woman. They come to a park. Suresh says let's go home. Tulika says I want to enjoy some more. Suresh says enough Nima.. Tulika glares at him.
The episode ends.