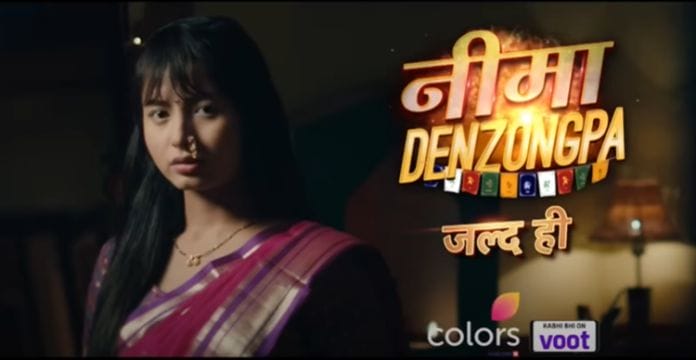 Nima Denzongpa Upcoming Story, Spoilers, Latest Gossip, Future Story, Latest News and Upcoming Twist, on Justhowbiz.net
The episode starts with Nima returns to her home. She starts her cleaning work there. She gets emotional seeing Gulshan picture there and thinks she will definitely bring back the happiness to this home. Set workers reaches there. Meanwhile Suresh asks Sunita what's the need to do this over acting? Whom will demand such items for hawan? Sunita says to him that she acted like that to feel realistic. Tulika praises her acting there. Tulika asks Suresh where did he collected this thorn, dog's nail? He says that Sunita demands him to bring such difficult items for hawan.
Only he knows how much he tried to collect those items. Suresh says that he finished his job Is she finished her job? She nods with and adds rest all in god's hand. Suresh says that they are getting late to meet Nima. Later Suresh asks Alok Doesn't this same dhuppatta which Nima wore it on that day? Alok nods with him. Tulika pretends like she is scared. Alok asks her to do this for him. Suresh makes Tulika wears that dhuppatta and demands Alok to call Nima.
Trio calls Nima together. Tulika pretends like Nima's ghost possessed her. She strangle Alok necks while mentioning him brother. Suresh ties her hand then alert Alok to place vermilion on her. She pretends like faint. Alok shares to him it's better to shift her to home. Later Nima checks the setting and confirm it's working. She notices Alok returns to home along with Suresh and Tulika. Nima Paya money to workers and demands them to leave before they noticing them. She turns off the light there. She hides from their sight.
Suresh notices that Nima and workers are still there. They will end up in big trouble if Alok see them. Alok about to check around the house but Suresh stop him. He talks with him in ladies voice. Alok asks him why did he behaving weird? He starts attacking him to divert him. Workers escapes from there using that situation.
Suresh, Tulika are pretending like Nima's ghost possessed them to divert Alok. Nima uses that situation to escape from there. Tulika asks him why did he tied her hand she demands him to release her. Alok asks her how will he untie her both Suresh and Tulika were possessed by Nima. He asks her when will Exorcist come? Sunita reaches there on time. Alok feels happy seeing her there.
Sunita tells him nothing to worry definitely Nima comes in front of her. Sunita chants some Mantras and calls Nima to come out. Suddenly smokes covered them. Photo frames starts shaking there. Suresh asks Sunita what's going on there? Sunita tells him Nima is very powerful soul. Is she scared to come in front of her?
All lights turns to off there. Alok gets scared seeing photo frames shaking automatically. Smokes covered them Nima walks down to them while laughing. Alok gets scared seeing her close to him. Nima disappears from there and hanging in air. Suresh and Tulika praises the arrangements of Nima. Nima says to Alok that he didn't bring her here but she brought him here. Alok hides behind Sunita in fear. Nima asks him where will hide? She will definitely follow him wherever she go? Tulika asks Alok why did she mentioning him as Alok? He is Avinash.
Nima comes there and scares him. Sunita stops Nima there and enquires her what's she need? Nima says to her that she will definitely kill him. Alok hides behind Tulika. She pretends like strangle Tulika's neck and demands him to come near her. Alok says to her that he don't mind her killing her. He runs away from there. Suresh goes behind him to search. Nima goes to search Alok in store room. Alok smartly close her inside cupboard and burns it. Nima shouts in fear. Later Alok shares to Everyone that he closed Nima's ghost inside cupboard and burnt it.
Episode ends
Click to read
Nima Denzongpa 2nd August 2022 Written Update: