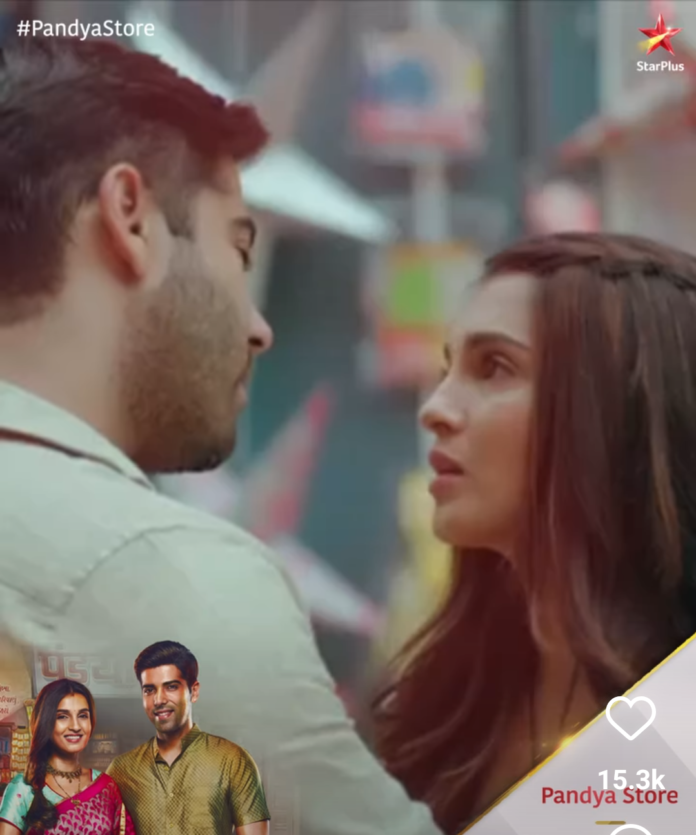 Pandya Store Upcoming Story, Spoilers, Latest Gossip, Future Story, Latest News and Upcoming Twist, on Justhowbiz.net
The episode starts with Prafulla insulting Suman. The latter says that she will complete Shiva's incomplete work and starts to beat Prafulla and throws her out of the house. Suman says that she never accepted the defeat. She lifted her Pandya family 15 years ago and she will do it again. Dhara is walking on the road with the baby saying that she has a big family to love her. Dhara bumps into a man. She apologizes to him and leaves. The man says that she has seen this woman somewhere and wonders where. Suman is expressing her in front of God. She says that she lost her husband due to her brother's betrayal and her family came on the road losing everything, but she never lost her faith on God.
Suman asks God why he gave Dhara hope to become mother two times and destroyed. She says that she will lose her faith on God. Suman says what if Dhara ran away from the problems following her mom's footsteps. Suman says that Dhara can't be do like this. She asks God to bring Dhara safe and sound. Just then Dhara comes to the Pandya residence with the baby. She says to the baby that she has come to her new house, will meet her new family and will get lot of love.
Suman says to Kanta that they will go to the police station. They will bail Shiva out then will lodge Dhara's missing complaint. Dhara hears this. She gets worried and says that Suman doesn't know that police will separate the baby from her. She says to the baby that no one can separate them. Dhara hides inside the house. Unaware of this, Suman leaves with Kanta locking the door. Dhara assures the baby saying that Suman will bail Shiva out and then everything will be fine. Dhara says to the baby that she will make her visit the house until her grandma comes. She tells about each one's room. She says that when all will come, they will compete to lift her up. She hugs the baby and saying that she's very happy. She says that she will her feed her food until all comes back home.
Prafulla is walking lamenting about where Raavi has gone. She asks if she hasn't gone tp fight with Kamini and decides to meet Kamini. Dev takes his phone to call Guatam, but he drops the phone in the water by mistake. Kanta and Suman reach the police station. Suman sends Kanta to her home saying that she will handle herself. Kanta agrees and leaves. Suman requests the inspector to let her meet Shiva. The inspector refuses. Rishta arrives there and says to the inspector that Shiva isn't taken it under judicial custody, so legally he doesn't have rights to stop Suman from meeting Shiva.
The inspector asks if she traches the inspector the law. Rishita says that she just reminded him the law. Suman scolds Rishita for being buzy in her office work when her family is breaking. Rishita denies it and says that Guatam informed her about family's condition. She was looking for Dhara and she gave Dhara's missing news to the media. She tried all possible wat like poster, social media etc to find Dhara as it's been only four that she has gone missing so they can only do this. She says that she tried to contact Dev and Krish. She asks Suman where Krish is. Suman says that she doesn't. Rishita convinces the inspector to let them meet Shiva.
Shiva is recalling Prafulla's words. Sumann and Rishita meet Shiva. Rishita apologizes to Shiva that she left to the office thinking that Raavi would have bailed him out. Shiva says that it's fine she has give importance to her priorities and he and his family aren't her priorities. Suman says that Shiva is her priority and she loves him lot. Suman further says that Dhara is missing and Gautam,who was finding, is also missing. Shiva asks about Raavi. Suman says that she must be at Prafulla's house. She didn't even call her once. Suman says that she's like Prafulla so she got him arrested. She assures Shiva that he will get him released.
The episode ends.
Precap: Suman vows to bring Anita to save Shiva. Suman meets Anita and asks to take her complaint back. Anita acts. Suman slaps Anita. Rishita arrives there disguised as an inspector. She puts hand cuff to Anita and drags her.
Click to read
Pandya Store 18th January 2022 Written Update: Prafulla insults Suman