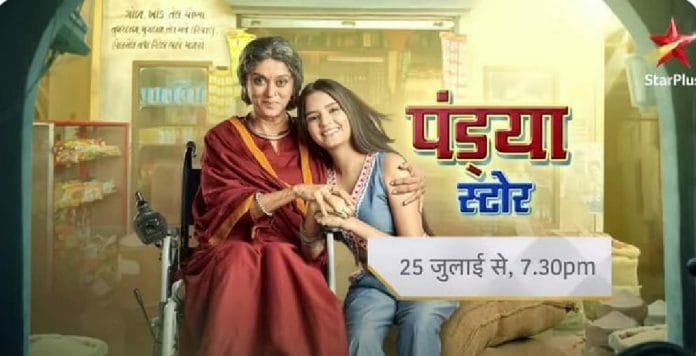 Pandya Store Upcoming Story, Spoilers, Latest Gossip, Future Story, Latest News and Upcoming Twist, on Justshowbiz.net
Episode begins with Dhawal comes back and gets close to Natasha. Natasha pushes Dhawal down and then Suman wakes up and says thieve. Natasha says no it's a cat, he went. Suman sleeps. Dhawal carries her and takes her. Natasha realises it was a dream. Here, Dhawal also imagines Natasha everywhere in his room. Here, Suman asks Natasha to sleep and not worry. Dhawal sleeps on the sofa and thinks of Natasha. Natasha says to Suman about returning home. Suman says you just came so don't worry about going back, Janmashtami is coming so we will follow our traditions, I will tell you tomorrow now sleep.
Next day, Dhawal's family do puja. All the couples do the aarti of krishma ji. After the puja, Dhawal says should I bring Natasha back from pagphera. Amba says no let Pranali's wound heal then only, or else Natasha will call the police. Amresh asks Dhawal to enjoy the festival and they need the dahi handi on their side. They all dance and celebrate. Here, Suman tells the kids about winning the dahi handi every year. Natasha says yes we will win. Suman gets sad remembering her sons. The kids ask her not to get sad.
Suman says yes I feel the same with you all nearby. Suman says call Dhawal here, it will be fun, we will go for darshan and Krishna ji will bless you with a cute baby. Shesh and Mithu tease her saying they want to become mama soon. Natasha says no. Suman says ideally you should have celebrated it in your sasural. Natasha shares her issues in Makwana family about having different rules and how they are trying to make her forget the Pandya family. She gets emotional. Suman says you fought with Dhawal? Natasha says I try a lot to adjust with the new rules but Dhawal always fights with me. Someone calls Natasha to set the matki. She goes. Suman worries for Natasha and her married life.
Dhawal and Chirag are in the car going to get something. Dhawal brings it near Natasha's house so Chirag teases her that his heart is with Natasha. Dhawal disagrees. Suddenly Dhawal sees Natasha setting up the dahi handi. Dhawal smiles seeing her. Natasha sets up the handi and talks to another guy. Dhawal feels a little jealous. Dhawal says this time we will only win the dahi handi. Chirag says then go and tell her then she can adjust the height. Dhawal says let's give her surprise. Dhawal throws roses on her and drives while Natasha dances. Natasha then notices Dhawal. Chirag says he is very filmy. Suman calls Dhawal to come home for Janmashtami. Dhawal says the family is going for a puja in the temple they made so he will come after that. Suman says okay and ends the call. Suman thinks what is going on, why did they send Natasha here when they do a big Puja at home? I will have to find out.
Episode ends.
Precap – Natasha and Dhawal challenge each other in the dahi handi competition. Amba decides to stop Natasha from participating in the dahi handi itself.
Click to read
Pandya Store 18th September 2023 Written Update: Pranali makes Amresh and Bhavan fight!