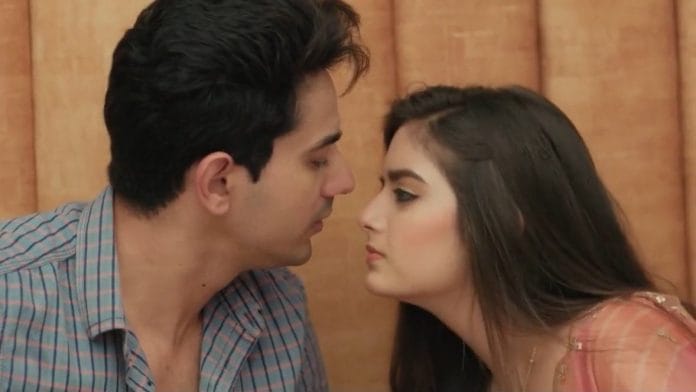 Pandya Store Upcoming Story, Spoilers, Latest Gossip, Future Story, Latest News and Upcoming Twist, on Justshowbiz.net
The episode starts with Natasha and Dhawal stuck together in room in darkness. She holds him and gets close to him. Both of them keep looking at each other. Dhawal protective holds Natasha. Suman scolds Sesh and Mithu for standing like statue and asks them to call police. Chirag suddenly gets hurt and keeps screaming. Makwana brothers make him sit. Isha enters the house and recalls how years back Amresh threw her luggage away and said her to leave the house. Isha promised to return to house only after she establishes herself. She even says she is not Isha Makwana anymore but only Isha.
Isha hesitates to enter the house but Natasha sees her and holds her hand to bring her inside. Police reaches there too and get hold of the masked thieves. When lights are turned back on , Amba sees Isha and emotionally calls her. Pandyas get shocked to hear Isha's name from her. Makwanas get emotional and even Amresh cries but tries to hide his tears. He angrily questions Isha how did she dare to come back to their house. Amba tries to stop Amresh. Natasha says she has brought Isha home as it's Diwali. She tells how they planned to bring Isha home but their plan failed when actual thieves attacked them.
Suman thinks so Isha is connected to Makwanas while Chiku feels hurt as he remembers Isha lying to him that she is orphan and doesn't have a family. Natasha tells Isha to hug her family and forget everything. She asks Chirag, Bhavin and Amresh to hug Isha as she knows all of them miss Isha too. Dolly jokes with Pranali and says it looks like a climax of movie and asks if Amresh will accept Isha back. Pranali tells that it's none of her business but Natasha keeps doing drama on every festival since she has come home.
Dhawal comes forward and finally hugs Isha. He cries and asks her where she went as he looked for her everywhere. He says he will not let her go anywhere again. Amresh separates Isha and Dhawal. Chiku is about to interrupt but Suman stops him and takes Pandya brothers home. Amresh says that Isha is not their sister. He says he cannot forget how she went leaving them. Amresh says he has no relationship with Isha and calls her their enemy.
Dhawal says its not offense to have different mentality. Amresh ends up saying how it was Isha who had kidnapped Golu. Suman tells it's not possible to celebrate any festival peacefully in Pandya family. Chiku says they should not have returned back home and stood by Natasha's side. Suman tries to explain the situation to him but he refuses to hear anything. Dhawal falls on his knees in front of Natasha and says she was sitting like that when he left her alone. He asks her for apology and begs forgiveness for not trusting her. Natasha makes him get up and takes blame on herself. She says Isha is innocent and tells how her bag was stolen and found in that room. The episode ends with Amresh saying there is no place for Isha in Makwana house.
Precap
Amresh will tell Natasha that because of her for first time Dhawal questioned him. He will object her decision to work and say she is breaking his house. Natasha will tell that she is building it instead.
Click to read
Pandya Store 20th November 2023 Written Update: Isha reaches Makwana house