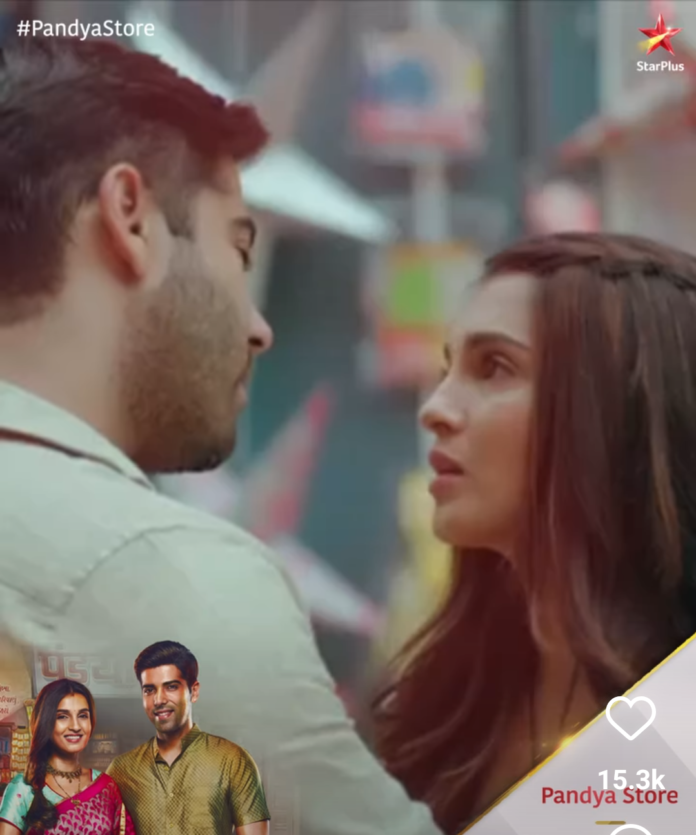 Pandya Store Upcoming Story, Spoilers, Latest Gossip, Future Story, Latest News and Upcoming Twist, on Justhowbiz.net

The episode starts with Shiva being futious recalling Jeevanlal's words and pouring a bucket full of water over him. He goes in taking the towel. Prafulla comes to Suman. The latter asks her why she has come. Prafulla thinks that Suman will oust her if she tells about Shiva's ghost. She remembers getting scared on seeing footprints on the floor and leaving the house packing her packs. Prafulla silently walks taking her bag. Suman is shocked realizing that Prafulla is going to stay in her house.
Dhara gets Raavi ready. Prafulla comes in. Dhara and Raavi are surprised to see her. Prafulla says that she saw ghost footprints in her house. She notices Raavi decked up and asks where they're going. Dhara says that she's taking to make Raavi meet Shiva's ghost. Prafulla says to Raavi to not go. Dhara makes her sit and says that they will come. Raavi gets suspicious with Dhara's behavior.
Rishita and Dev see Dhara and Raavi going. Rishita asks where they're going. Dhara says for dinner. Rishita wants to go along with them. Dhara refuses stating her pregnancy. Suman and all come to the hall. Suman asks Dhara to give her herbal tea. Dhara says that she will give after returning home. She leaves taking Raavi with her. Family is confused with Dhara's behavior and wonders what happened to her.
Dhara brings Raavi to Prafulla's house. Raavi asks why she brought her here, if she also thinks that Shiva will be visible to her. Dhara says that it can be possible and asks her to try. Raavi calls out Shiva. She says that if he can be visible to drunkard and Prafulla why not to her. She gets surprised when flower petals fall over her. She turns around andvsees Shiva. She can't believe that she saw Shiva. She closes her eyes wondering what's happening.
Shiva comes near Raavi and says her to open her eyes. Raavi refuses saying that her mind is playing with her. Shiva says I love you to Raavi and kisses her cheek. Raavi opens her eyes. She gets happy realizing that Shiva is really in front of her. She says that she loves him too. She kisses his cheek. She touches his face and gets emotional. She hugs him.
Shiva tells Raavi about what had happened and the reason behind for not returning home. Raavi asks about the land papers they received. Shiva says that he also got to know about it. He says that Jeevanlal played game learning about his death. Raavi asks what now. Shiva says that everything will be fine when he will send the land and pay back the compensation. Raavi asks if he won't return home. Shiva says that not for now. He says that it's the matter of some time, she can meet him here whenever she wants. Raavi hugs happily Shiva saying that they will get chance to romance secretly.
Dhara serves dinner to the family. Suman asks where Raavi is. Dhara lies that she is on the terrace. Krish runs to the terrace to bring Raavi. Shiva is covered his face with a cloth and accompanies Raavi till Pandya house. There Krish doesn't find Raavi on the terrace and questions Dhara. The latter says that Raavi was on the terrace when she saw her, but now she came down stairs. Shiva says to Raavi to go inside the house. Raavi hugs him. Kanta gets shocked spotting Raavi huging a guy.
The episode ends.
Precap: Shiva, Raavi and Dhara are in Prafulla's house. Raavi asks Shiva how she will go out now and says to Shiva to find any way. They try to hide when Prafulla come in. Prafulla gets shocked seeing Shiva.
Click to read
Pandya Store 27th June 2022 Written Update: Pandyas learns a shocking news.