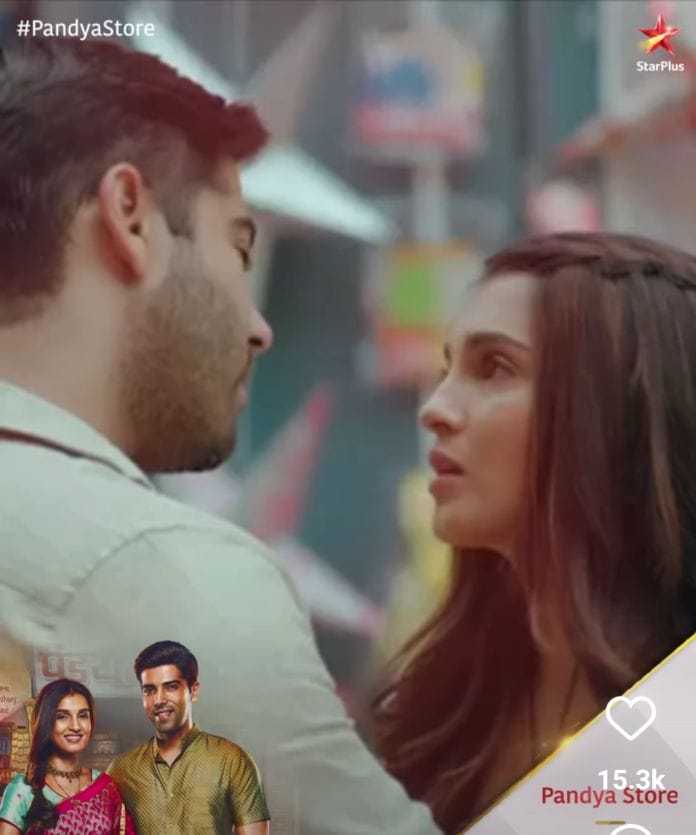 Pandya Store Upcoming Story, Spoilers, Latest Gossip, Future Story, Latest News and Upcoming Twist, on Justhowbiz.net
The episode starts with Shiva gifts anklets to Raavi. He says that he won't the competition and now no one can call him illiterate. He asks Raavi if he can make her wear the anklets. Ravai nods yes. Shiva puts the anklets around Raavi's ankles. There Dhara and Gautam talk about Shiva and Raavi. They say that Raavi and Shiva couldn't spent any moment in peace and decide to make a special moment which they can leave for themselves. Here Shiva gives his swear and says to Raavi to never remove her anklets. Raavi asks where her old anklets are. Shiva says that he has them. He says that he will keep them to make him remember the importance of education. Raavi says that his education is still incomplete. Shiva says that he will complete it, he is joining the coaching class again. Raavi gets elated on hearing this.
Gautam and Dhara do God's aarti. Shiva and Raavi comes downstairs. Suman welcomes them. The guests congratules Shiva and Raavi on Shiva's victory. Krish hugs Shiva and says her all the three children are stars. Dhara gives Shiva and Krish aarti and misses Dev. Shiva cheers up Dhara. They all sing Yaadon ki baaraat. Just then Rishita arrives there. Dhara gets elated. She says that she knew that she will definitely come as this party is also Rishita's. Dhara is about to show Rishita the poster Gautam nade for Shiva and Rishita. Krish takes Rishita for dance before Rishita can see it. Pandyas continue to sing Yaadon ki Baaraat and share a family moment.
Rishita asks Gautam how his health now. Gautam says that it got better after her arrival. Kamini and Janardan arrive and greet Gautam. Suman welcomes and says to take part in the celebration of Shiva's victory. Rishita congratulates Raavi and says that Shiva won. Raavi says that Pandya family has won, Rishita is also a part of the family, so congratulation to her too. Rishita and Shiva congratulate each other. He thanks Rishita for coming to the party. Raavi signs Shiva. The latter brings Rishita's gift and requests Rishita to accept it. He adds that there's gift for Dev as well. He is very busy nowadays. Rishita asks if he is taunting Dev. Shiva denies and says that he won the competition, but Dev didn't even congratulate him in phone call.
Rishita says that Dev doesn't know about this competition. She will tell him once he will return from Mumbai, she doesn't want to give him any stress. Rishita taunts Shiva that he accuse them without knowing anything, they are bad people. Shiva says that won't weaken their relationship. He says that he opened a small FD for the child. He says that the amount might be less, but their love is precious. He says to Rishita to take it. Rishita takes it thanking him. Shiva says that it's from his uncle. Shiva then gives Janardan two lakhs cheque saying it's the amount borrowed for opening new branch of Pandya store. He says that the accounts are settled now, so he asks to stay way from Gautam. He says to use his brain on his business as no one can stop now Pandya store reaching new heights. A man praises Shiva and taunts Dev. He says that one son left the house for money, another son won family and is helping his family. Rishita thinks of exposing Shiva.
Rishita says that she's happy that Shiva won. She says that he brought a small gift for him. She puts a gold chain around Shiva's neck and says that it's from her and Dev. Shiva says that it's not needed. Rishita says that it's needed. She adds that she will give him even a bigger gift. She will show to all how Shiva won the competition. Suman and Raavi get worried on seeing Rishita's attitude. Rishita plays a video. In the video the judge says that if a boy, who just passed 10th class, wins, it sets an example in the society rather than a privileged girl wining.
The girl asks if he made Shiva winner despite Rishita deserving to be the winner. The jusdge say not like that Rishita was also deserving, but Shiva's story was better. His story inspired many. The girl asks if Shiva's family was also involved in this. The judge says that it's not possible without his family's support. His brother was in hospital and Shiva came to the competition after donating him blood. It makes a good story. The girls asks If Shiva, Dhara and Gautam did match-fixing with him in the competition. The girl says that this is the truth of the competition. Rishita says that this is the great doing of great son of Shiva.
The latter says that this is all a lie. He asks Rishita if she doesn't know that Gautam was unwell. He was busy in that and why he needs to do all this. He asks Rishita if she really thinks that he is dishonest. Raavi says that Rishita proved that she was never and can never be this family's part. Rishita asks if she's still at mistake despite Shiva being dishonest. Raavi says that Rishita has problem with Shiva's win. She can't tolerate Shiva's winning and manipulate the judge to destroy Shiva's image. The guests taunts Shiva that Shiva cheated to win the competition. A guest says that they thought Shiva as their role model. Rishita says that man like Shiva can't be a role model.
The episode ends.
Precap: officers arrive to shut down Pandya store. Shiva and Dev hold the Pandya store name board. Pandyas stand together against it.
Click to read
Pandya Store 6th May 2022 Written Update: Shiva celebrates his victory