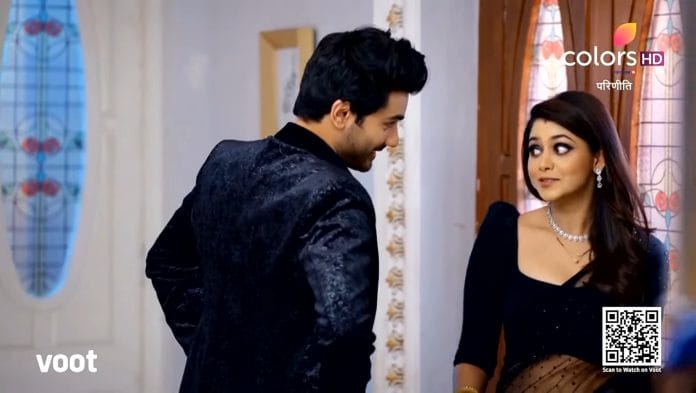 Parineetii Spoilers, Upcoming Story, Latest Gossip , Future Story, Latest News and Upcoming Twist on justshowbiz.net

Parineeti is Colors TVs Popular show. This show never fails to entertain it's audience with the unique story line. Now serial focusing on Parineet to learn the truth
In the previous episode we saw; Rajeev noticed Parineet came there. Natasha forces Parineet to drink there even after she refused. Parineet got flashes of her moments with Rajeev. She doubted whether its effects of drinks or she really remembering him?
She noticed Rajeev there and thought it's may be her hallucination. Neeti noticed her drunk and convinced her it's not wrong to drink sometimes. She said to Neeti she saw Rajeev there. Rajeev hidden from her sight. Parineet followed him behind.
Seema noticed Parineet drunk. Neeti came there to help her. Monty collide with Seema ans their rooms key got exchanged there. Meanwhile Shreya disappointed with Ajay for playing dual role. He narrated to her why did he playing this drama.
Shreya got shock hearing Rajeev married two woman. Later Rajeev pretended like angry on Neeti she apologized to him. He tried to be romance with Neeti but got shocked seeing Parineet there.
In the upcoming episode viewers will see; Rajeev will enjoy the dance in party. He will notice the chandelier gonna fall down where Neeti dancing? Rajeev will shout Neeti's name to alert her but she didn't hear his voice properly.
He will rush near her and save her on time preventing her from hurting. Rajeev will get panic seeing her faint. Parineet will notice them together. Rajeev will give mouth respiration to Neeti she will get conscious.
Natasha will ask Naman to love her the way Sanju loves Neeti. Parineet will tell them he is Rajeev not Sanju. But they will tell her Sanju is Neeti's husband
What will happen next? Will Parineet find out the truth? When will Neeti caught Rajeev red handed?
Upcoming episode will answer to our all questions stay tune with our space for more updates.