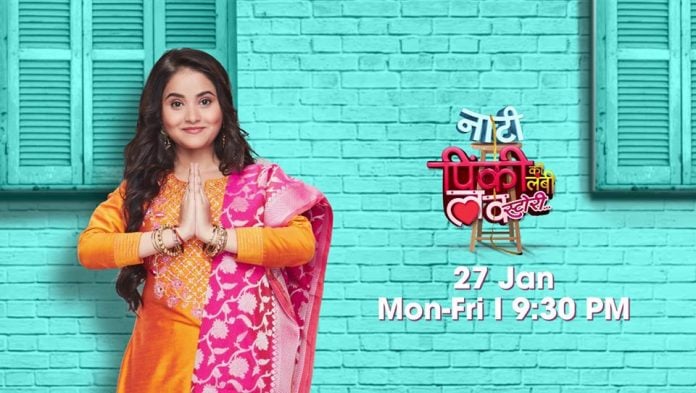 Naati Pinky Ki Lambi Love Story Spoilers, Upcoming Story, Latest Gossip , Future Story, Latest News and Upcoming Twist

Colors TV popular show Naati Pinky serial is witnessing some major turning points these days in their story.
As reported earlier Pinky returns to her home and Ram wants to perform her second marriage. Otherside Arjun gets threatening calls from anonymous caller, after knowing the risk for Nandu life, Arjun packs his bags and leaves from house with Nandu.
Pinky tries to open Arjun house door and then notices Nandu's room is messy through the window and then she finds the threatening letter and gets tensed. She calls Arjun but Arjun and Nandu sit in the bus and puts the mobile on aeroplane mode. While Arjun is sleeping, Nandu thinks to get down and bring the chips. She gets down. Meanwhile the bus driver starts the bus. Nandu cries. Arjun realises Nandu is not in the bus than he gets down from the bus and runs on the road.
Nandu picks Pinky's call and sends her location. Arjun also comes running to stop and cries for Nandu. Pinky asks him not to worry and tells that nandu is with her. Arjun gets happy and hugs Nandu.
In the upcoming episodes viewers gonna witness that Pinky questions Arjun why he gets scared and running away from people and asks him to complain to the police about blackmailer. Arjun denies it and when he about to leave, Pinky threatens him that she gonna call police. Arjun tries to stop her but she won't listen, in spur of moments he reveals that if police is involved that will seperate Nandu from him because she is not his daughter. Pinky gets shocked.
How will Pinky react after knowing this truth? Who are real parents of Nandu?
 All these questions will be answered in the upcoming episodes.
To know what will happen next in your favorite show, keep watching this space for new and exclusive updates.