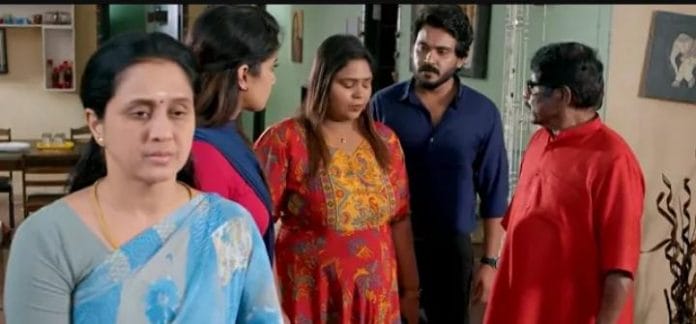 Pudhu Pudhu Arthangal Spoilers, Upcoming Story, Latest Gossip , Future Story, Latest News and Upcoming Twist on justshowbiz.net

Zee Tamizh Popular Tamil drama Pudhu Pudhu Arthangal is a drama about Lakshmi a widow who lives in the "Sneha Apartment", takes care of her home, and faces all life issues with peace. Now the serial comes to a climax part. In an embarrassing situation, Hari tied a knot around Lakshmi's neck. Lakshmi and Hari's wedding stopped after Arjun's death.
In the previous episode, Santhosh confessed his crime in the court in front of Pavithra. The judge was surprised to see Pavithra and Santhosh's love. The judge announced the cancelation of the divorce.
Santhosh was surprised to see Arjun at the court. Prathiba's evil move to buy Lakshmi's flat. Arjun's presence delighted Lakshmi.
Prathiba fumed when Santhosh and Pavithra stop the registration.
In today's episode, Santhosh and Pavithra come home with Arjun. Lakshmi is elated to see Arjun. Pavithra tells her about Hari's good nature. Prathiba's plans fail when Pavithra stops the house registration. Pavithra and Santhosh plan to unite Hari and Lakshmi. They convince Lakshmi. On the way, Thiruventkam stops them. He informs them about Hari's trip.
Santhosh and Pavithra decide to unite Lakshmi and Hari. Maddy is looking for Hari in Narmadha's home. There, She finds a clue about Hari and Narmadha's wedding. Maddy informs Santhosh and Pavithra. Lakshmi is not ready to accept Hari. Ananthai is ready to help Pavithra and Santhosh. The residents involved in the search mission of Hari.
Will Santhosh stop Hari's wedding? Will Santhosh and Pavithra stop Hari? Will Hari accept Lakshmi? Will Lakshmi apologizes to Hari? Will Hari marry Narmadha? Will Santhosh unite Hari and Lakshmi? Will Lakshmi marry Hari? Keep checking this space for the latest update on your Zee Tamizh shows.