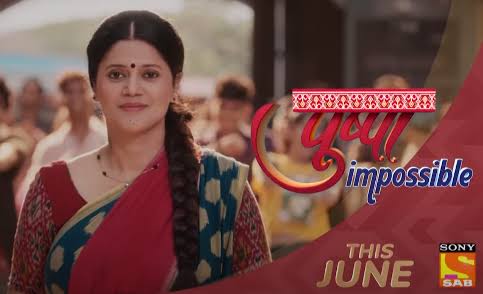 Pushpa Impossible Upcoming Story, Spoilers, Latest Gossip, Future Story, Latest News and Upcoming Twist, on Justhowbiz.net
The episodes starts with Manish suggesting opening for Deepti in Janani Group of Companies. Deepti agrees to approach it. Deepti gives her interview in Janai Group of Companies. The Interviewer gets impressed with Deepti and shortlists her name. Mansi shows the layout of Bapodhara Chawl to Ashwin and asks him to create the presentation. She warns him to not let Janani group of Companies get their hands on presentation. Chirag says Pushpa that he found details about taxi service and says that the travels belongs to Haresh Travel Agency. She then asks Rashi about her session and Rashi says she's paired with Aryan for her project regarding adopted parents. Deepti comes there and gives the happy news that she got shortlisted for the interview.
Pushpa getd happy and also asks about Ashwin. Ashwin says that it's normal. He says that they need to change Deepti's surname but Pushpa is against it. She asks him to just add Patel to her existing surname. Pushpa reminds them about her father's birth anniversary the next day and wants to celebrate it wearing the saree made by her father. She misses Radha Kaku and wishes that she was there. She wonders where she is.
Saran is taking care of Radha Kaku who's in old age home and is in trauma. He feels that he has seen her somewhere but couldn't recognize it. The old age home manager says that they found her outside on bench and from the time she came she didn't have food or spoke a word. Saran feels bad for her. Chirag asks Pushpa if she found about Haresh Taxi Agency. Pushpa says that she is about to visit agency later. Deepti wants to iron the saree that Pushpa is going to wear and Pushpa says her plans the next day. Ashwin is working in his laptop and Deepti sits to assist him.
She sees the layout and finds it similar to Bapodhara Chawl but Ashwin says it might be some other chawl. He gets taken aback learning that she ahs applied for Janani group of Companies and immediately closes the layout and withdraws his laptop. He wishes that she don't get job in the company to avoid misunderstanding. Pushpa finds Aryan and Rashi working together in the project. Saran says that they will learn about the other cruel side of life once they visit orphanage. He says about Radha Kaku and Pushpa pities for her without knowing who it is. Pushpa visits the agency and learns that Bapodhara goes to Surat every month at a particular address. She catches his lie.
Precap : Chirag will say Pushpa that he found a house named as Bapodhara house in her said location and there is no ayurvedic center nearby. Pushpa will mockingly confronts Bapodhara about the Ayurvedic center in Surat while Bapodhara will get scared.
Click to read
Pushpa Impossible 2nd December 2022 Written Update: Mansi agrees to buy Bapodhara Chawl.