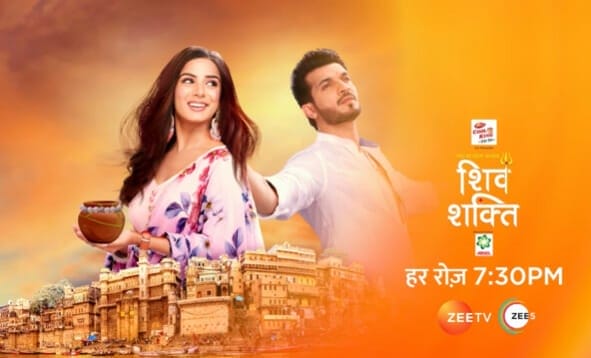 Pyaar Ka Pehla Adhyaya Shiv Shakti Upcoming Story, Spoilers, Latest Gossip , Future Story, Latest News and Upcoming Twist on Justshowbiz.net
The episode starts with Shakti saying to Shiv that she wants to talk to him urgently. Shiv asks her to say. Shakti says let's talk in a room and takes him with her. Mandira scolds Ranjan and Pappu for failing her plan. She hears someone coming into the room. She feels scared. Shakti opens the door but Manorama stops Shakti. Shakti takes back her hand from Shiv. Manorama asks where they are going. Shiv says he is going to talk to Shakti. Manorama says whatever they are doing is not right. Shiv says she will thank him later for his help. Manorama asks Shiv if he is trying to stop this marriage to destroy Rimjim's life. Shiv says it's to save Rimjim's life. Mandira and Ranjan overhear it from the room. Brijkishore calls Manorama. Manorama leaves.
Shakti takes Shiv to the room. Shakti asks why he is doing everything. Shiv says he is doing it for her as he feels she is near one and special to him. Shakti feels happy. Shakti puts forth her hand and asks if he wants to become her friend. Shiv feels happy as she finally accepts his friendship. He gives her a handshake and hugs her in happiness. Shakti thinks if it's friendship or something else. She recalls her moments with Shiv. Shakti recalls Manorama's words to never fall in love with Shiv as their status is different. She says this relationship motive is just friendship. Shiv breaks the hug and asks what she means. Shakti manages him with her words. Shiv says our friendship's first mission is to stop Ranjan and Rimjim's marriage. Mandira, Pappu, and Ranjan overhear it from their hiding place. Shakti says they need to expose Ranjan's reality in front of Brijhkishore and Manorama. Shiv says they can do it. Shakti asks how to do it. Shiv pinches her nose. He says we are together so we will find a way. They leave from the room.
Mandira, Pappu, and Ranjan escape from the window. Mandira warns Ranjan and Pappu to not spoil her plans. Bhagwati says Choti and comes there. She asks Mandira what is she doing with Brijkishore's son-in-law. Mandira manages the situation with her lie. Bhagwati says they need to return home. Mandira thinks to herself that Shiv and Shakti want to stop this marriage right? She wouldn't allow it to happen.
Ranjan tells Pappu that Shiv and Shakti are staring at each other. Bhagwati and Raghunad inform Brojkoshore that they are leaving. Raghunad calls Shiv. Shiv says 2 minutes. Rimjim goes near Keertan but he ignores her. Ranjan walks towards Shakti. Shiv comes there and stands in between Shakti and Ranjan. Shakti feels happy. Shiv asks Ranjan what's the matter. Ranjan lies that he came to apologise to Shakti. Shiv asks him to apologise to Shakti from afar otherwise you will face wrath of mine, what you saw in the room is just a trailer. Bhagwati asks Shiv to come. Shiv asks Ranjan to leave from Shakti's house. Ranjan asks him to leave first. Shiv says leave first otherwise you will become patient in my hands. Raghunad questions Shiv about it. Shiv manages the situation.
Episode ends.