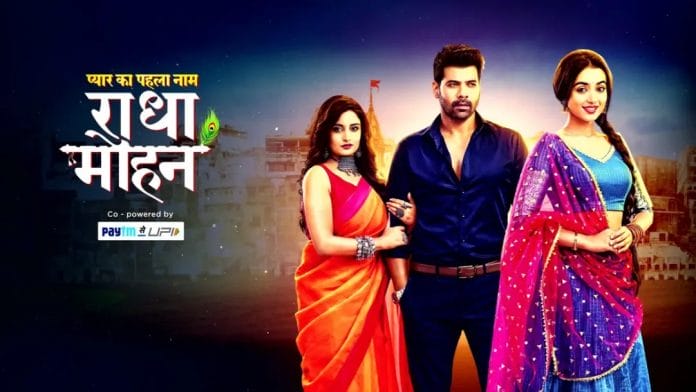 Pyar Ka Pehla Naam Radha Mohan Upcoming Story, Spoilers, Latest Gossip , Future Story, Latest News and Upcoming Twist on Justshowbiz.net
Episode begins with Mr. X tells Bunty that passengers unity is not good for them and Radha Mohan can become problem for them. Mohan tells Radha that he won't spare Bunty. On the other hand, Kavita asks Harsh about flight location. Harsh tells her that flight is roaming around Delhi only. She says that they have to cancel all other flights. And says that they have to inform Radha and Mohan that they have to land the flight safely in Delhi airport. She tells him to send this message Radha and Mohan somehow. Harsh nods at her.
In the flight, Mohan tries to kill Bunty. Radha asks Mohan to leave Bunty. Mohan asks Bunty that how can the latter hurt Kadambari. Terrorist tries to go to Mohan but passengers stops the former. Kadambari and Radha stops Tina. Mr. X comes there and warns Mohan to leave Bunty. She threatens to shot Gungun. Radha and Kadambari tells Mohan to leave Bunty. Gungun gets scared seeing the gun. Everyone gets shocked hearing bullet sound.
Kavita says that she want Radha and Mohan to lead the mission as soon as possible. She learns that hostages families has been arrived. One of the officer says that he is in stress so he can't handle anyone there. Kavita tells him that they are hostages families and they don't know what will happen to their family member. She says that nothing is painful than losing loved ones. She tells Raj to bring them inside and talk to them nicely.
Trivedis gets shocked seeing Kaveri. Kaveri tells Kavita to save Damini. She says that she can't live without Damini and cries. Trivedis says that Kaveri is crying truly first time. Other family members also requests Kavita to save the passengers. Kavita promises to save the passengers.
Mr. X shots an old lady. Passengers gets shocked seeing this. Old lady's husband cries. Mr. X threatens to kill everyone one by one. She says that she will kill kids first. Terrorist beat Mohan up. One of the passenger tells Terrorists to stop the violence. Terrorist scolds him. Mr. X says that old lady died because of Mohan. Terrorist takes the dead body from there. Old man cries.
Mohan tells Terrorists that they are devils. Radha tells Terrorists that their destruction will happen. Mr. X asks her that if Lord Krishna will come to kill them and laughs. Radha tells her that she and Mohan are enough to handle the Terrorists. Mr. X says that she want to die in Lord Krishna's hand. She takes Lord Krishna's idol. Radha tries to take Lord Krishna's idol but Mr. X pushes the former.
Mr. X says that she will destroy Lord Krishna's idol. She tells Danny to shot Lord Krishna's idol. Kadambari pleads them to not do like that. Radha snatches Lord Krishna's idol. Terrorists drags Mohan from there. Danny warns Radha to return Lord Krishna's idol. Bunty points a gun towards Gungun. He says that Gungun may die because of Radha's oversmart behaviour.
Episode ends.