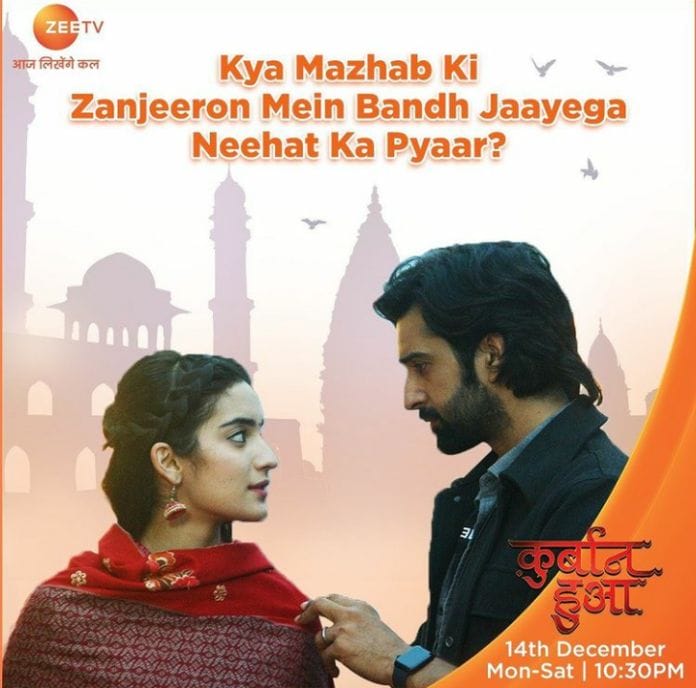 Qurbaan Hua Upcoming Story, Spoilers, Latest Gossip , Future Story, Latest News and Upcoming Twist on Justshowbiz.net
Neel performs the mahashivratri puja while Naveli tries to elope. Chahat follows her and tries to stop her but she sits in a car and goes away. Chahat panics and calls Neel but he doesn't pick up as he is busy in puja. Alka notices Chahat's call and thinks of picking it up but mami stops her and takes the phone. Chahat chases Naveli's car while Naveli calls Sahil to tell him that she has escaped from house. He asks her to relax and says that they should get married immediately then her family won't be able to do anything. He calls her to a temple and she agrees.
Chahat sees Naveli's car stop and opens the door but finds no one. Sahil leaves for making some arrangements while Ghazala decides to call the qazi to get Naveli married to Sahil and convert her religion. Naveli reaches the temple but doesn't find anyone there. Some people come in a van and abduct her by making her unconscious. Chahat follows the car but is pushed by a man. She sees a phone on floor and hears a recording of Sahil saying that he will convert Naveli's religion and then marry her.
Chahat is disgusted after hearing this and decides to stop Sahil from doing this. Meanwhile Ghazala takes Naveli for getting married in a Muslim attire and makes her sit. The qazi asks for permission to begin but Ghazala stops him and asks Sahil to first invite their special guests. Mami sees Neel's boss's call on phone and gives it to him. He picks it up and Sahil tells that he has a big surprise for him and orders him to come to restaurant immediately. Neel is confused what it could be but then asks his family to come along with him to the restaurant.
Aalekh gets happy thinking that Neel and his family are going to get a big shock when they reach there and this will break Neel and Chahat's relationship. Qazi starts the wedding rituals when Chahat interrupts. She says that this marriage cannot happen as the bride is unconscious. She goes to Naveli while Ghazala unexpectedly starts praising Chahat. She says that she is proud of Chahat for the way she has taken revenge from the Dhyanis by getting Naveli married to Sahil and converting her religion. Chahat is shocked while Vyas ji shouts and they all come inside. Vyas ji curses Chahat for her cheap act and confronts her for getting Naveli married forcefully.
Mama ji also criticizes Chahat but Sahil warns everyone against raising voice at her. He says that Chahat has proved today that her blood matters the most while Aalekh also comes there and enjoys the scene. Sahil says that they have forced Chahat to follow their religion and today the same will happen with Naveli. He goes to Chahat but she slaps him, she asks him to stop trapping her by saying lies. She goes to Neel and tells everything that happened and says that she came here to save Naveli. Neel says that she doesn't need to explain as he trusts her.
Neel angrily hits Sahil, everyone tries to stop him while Cash tries to wake Naveli up. Mami moves her away while Ghazala tries to manipulate Vyas ji saying that Chahat was faking love with Neel and Neel is so blind in her love to see her reality. Neel confronts Sahil for opening a veg restaurant to fool him and beats him but he says that he so doing what Chahat asked him to do. Vyas ji says that Chahat has ditched him to take revenge of her dad. Vyas ji asks Neel to see the reality instead of getting fooled I'm love. He says that Chahat is the reason for Naveli's condition. Neel stands up for Chahat while Sahil tries to manipulate him by lying. Chahat tries to explain that she is being trapped and she came here to save Naveli. Meanwhile Aalekh praises Ghazala for creating this chaos, she tells him that all this is fake and she was never planning to get Sahil married to Naveli. The episode ends.