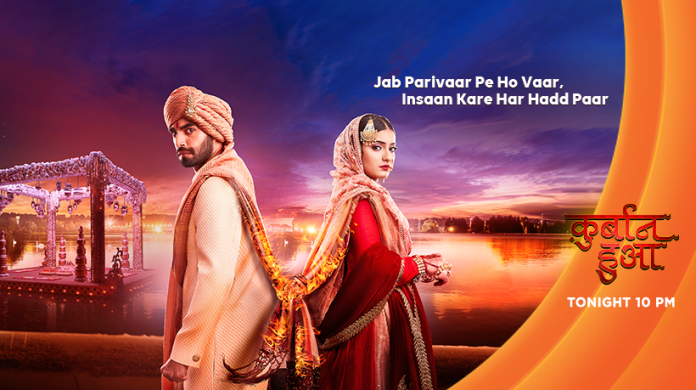 Qurbaan Hua Upcoming Story, Spoilers, Latest Gossip, Future Story, Latest News and Upcoming Twist, on Justhowbiz.net
Aalekh selects his dress for wedding when Naveli comes to his room with kerosene which makes him nervous. She gives it to him and says that she is not stupid enough to burn herself for Chahat and also knows that once he marries her, he will kill her so she is giving this to him.
Aalekh feels relieved and says she is right and then gives her a medicine and asks her to give this to Chahat every 6 hours. She says she will mix one in her food right now and goes while he thinks he would never marry her leaving such a beautiful girl.
At night Aalekh goes to Chahat's room and says that she did right by saying yes to Vyas ji for marriage. She says she didn't say yes and won't marry him, she stands to go to Vyas ji when Naveli comes with juice and Chahat falls on her.
Naveli makes her drink some juice by manipulating her while Mama ji shows statue of Goddess Sita but Vyas ji says that Diwali is celebrated for highlighting light and happiness but he can't celebrate Diwali when his life has darkness. Naveli comes with Chahat and asks Vyas ji if she can just put some mehendi as a ritual in Chahat's hands.
Vyas ji again asks Chahat whether she is fine with marrying Aalekh so Naveli makes her nod her head and says that Chahat also wants to do this though she is not in her senses. Naveli makes mehendi in Chahat's hand while she watches in subconscious state and pleads to God for help.
Mami calls Naveli to kitchen and laughs out saying that Chahat is anyways going to die after a week or so but Aalekh comes and asks her to lower her volume. Mami says that no one is listening except for Chahat when they hear a sound. They go and find Chahat unconscious and Vyas ji also comes and asks worriedky what happened to her.
Chahat asks where is Neel as he was here some time ago and mama ji sees the spoiled mehendi. Aalekh diverts the topic and takes Chahat to room while Vyas ji wonders why does she repeatedly feel Neel's presence. He goes out and finds Neel's scarf in front yard and realizes that Chahat was right.
Mama ji asks him what is the matter so he says that something is wrong, no one saw what happened in factory and Chahat's repeated hallucinations can't be wrong. Vyas ji says that he wants proof of Neel's death if he is really dead and decides to go to iron factory and asks him to not let the marriage happen till he comes back.
Mama ji goes to room and Mami starts drama in front of him and mama tells that Vyas ji has asked to delay the marriage. Aalekh hears him and goes in and says doctor says that Chahat's condition is bad and hence he thinks that marriage should happen as soon as possible but mama ji tells that Vyas ji has asked to delay the marriage.
Aalekh somehow convinces him for the marriage saying that he will talk to Vyas ji. Vyas ji is in the factory with police and forensic team and inspector says that Neel's body can't be found in this molten iron. Vyas ji asks them to do forensic testing and prays that Neel should be alive.
Next morning Chahat is brought to the wedding mandap and she sits with Aalekh in subconscious state. Aalekh asks pandit to start the rituals of marriage while Chahat sits helplessnessly as she doesn't have the strength to talk and prays for help. A man goes with God Ram's statue to Dhyani house in hoodie while Aalekh continues to forcefully marry Chahat. Chahat is unable to stand or move her hand so Naveli makes her do everything.
Vyas sees the forensic report which says that there is no trace of Neel's DNA in the molten iron which means Neel is alive and thinks of stopping the marriage. The marriage is interrupted by the man in hoodie who says that Chahat is his wife. Neel shows his half face and gives the statue and says he is Neel. Chahat rushes to him and hugs him and says she knew he will come back and falls unconscious. The episode ends.