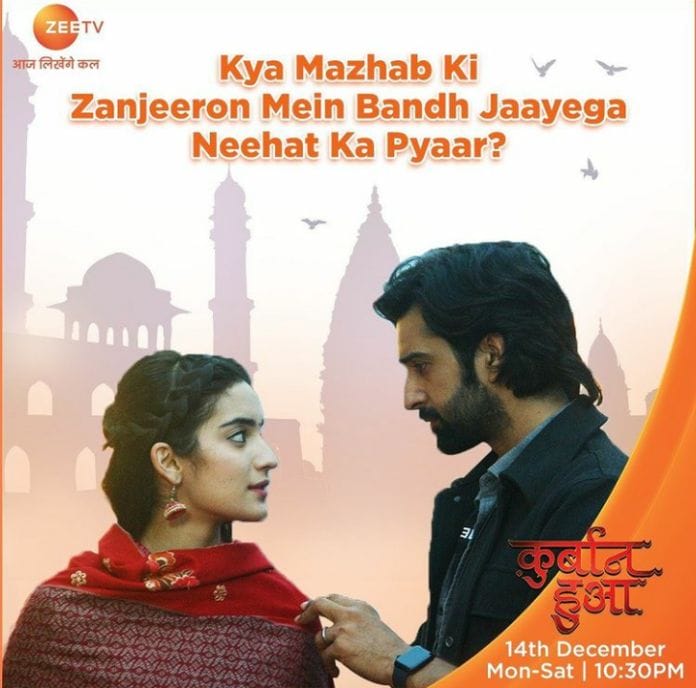 Qurbaan Hua Upcoming Story, Spoilers, Latest Gossip , Future Story, Latest News and Upcoming Twist on Justshowbiz.net
Aalekh starts drama in front of high priest that he will be delighted to watch Shlok sitting on mahant's position. He asks Shlok to come close to him but Shlok is scared and hesitates. Shlok goes and Aalekh hugs him, he threatens him that he will have to pay the price for daring to go against him. He says that he will beat him worse than his school teacher. Shlok remembers Aalekh beating him and gets scared while Aalekh asks him to take his name back if he wants to stay alive. After that he makes Shlok sit beside him while the high priest tells them that they will have to do some ritual to chose next mahant.
Shlok gets scared and runs inside while Aalekh says that he might have got scared from the responsibilities. Alka gets worried and goes inside behind Shlok followed by Chahat and Dua. Alka tries to make Shlok calm as he is crying. Chahat asks him why did he run away so he tells that Aalekh will beat him a lot if he becomes mahant and on the other hand Dua will be separated from him if he doesn't become mahant. Alka says that she won't let him fight with Aalekh just for stopping Dua. Chahat tells Alka that Shlok can't live under fear all his life, moreover if Aalekh becomes mahant he will misuse his power.
Alka tells Chahat that Shlok is too scared but she says that she will convince him. She tells Shlok that he should become brave and fight the problems, Dua also says that if he is doing the right thing he should not be scared of anyone. Chahat asks him to give his best and leave the rest on God while Dua says that this is his chance to impress his dad. Dua says that Neel will praise him while he also thinks that if he becomes mahant he will ask Neel to let him call him dad. Chahat says that his dad will be very proud if he doesn't let Aalekh become mahant as he would have never let this happen.
Shlok agrees to compete for mahant, while Aalekh tries to rush the high priest into making him mahant. Dua comes and tells him that Shlok has not changed his mind yet, Shlok comes out with Chahat and Alka and says that he went in to take blessings from his dad's photo and Alka. Aalekh realizes that Chahat has instigated Shlok to fight. He decides to separate Chahat so that she cannot motivate Shlok. He asks her to go and make a chandan lape required for the ritual. Chahat has to go and do the work while Bhopu enquires about Neel in an hotel but finds nothing.
Mami requests the high priest to explain what is this ritual so he explains that it is based on the five elements. He shows an arrow put on a pot and tells that whoever it points at will become the next mahant. Aalekh and Shlok sit on opposite sides and the high priest rotates the pot. Dua asks Mami whether any rule will be violated if she cheers for Shlok. Mami asks her to do it as it doesn't violate any rule. Dua cheers for Shlok while other also pray that Shlok becomes mahant.
Aalekh lifts his hands and chants God's names which reduces Shlok's confidence. Aalekh is happy thinking that the arrow is going to point at him only because he had replaced the original arrow with his magnetic one and his bangle made of iron will attract it to his direction. Dua notices that the arrow suddenly turns back whenever it is about to stop at Shlok and tells about it to Alka. Alka is worried that he will be heartbroken if he doesn't become mahant as he won'tbe able to impress Neel.
Dua thinks that something is wrong and Aalekh might be cheating to win. She goes to talk to Chahat about it while Aalekh keeps his hand close to the arrow. Dua tells Chahat that the arrow is wierdly turning towards Aalekh so she realizes that Aalekh must have done something and decides to expose him as she can't let him cheat and become mahant. The episode ends.