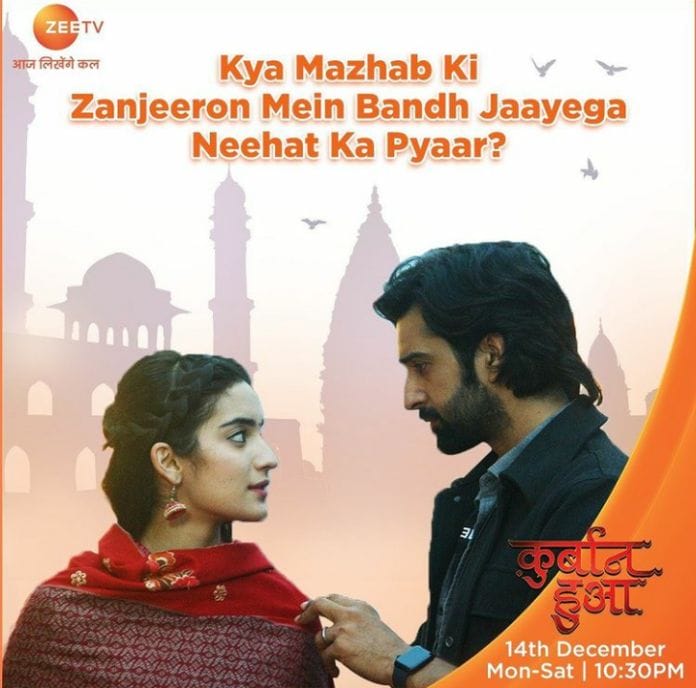 Qurbaan Hua Upcoming Story, Spoilers, Latest Gossip , Future Story, Latest News and Upcoming Twist on Justshowbiz.net
The episode starts with Chahat worrying that Aalekh will misuse his power if he becomes mahant and decides that she won't let him become mahant at any cost. She throws an iron rod towards Aalekh to hit him but Shlok sees it and pushes Aalekh out of the way. He catches the rod on time while the arrow stops pointing towards him. Dua and Alka become happy while Aalekh shouts at Shlok saying that he pushed him. Shlok says that he was trying to save him else the rod would have hit him on head. The high priest stops Aalekh and tells that Shlok has saved him without thinking about his own life and this is a quality mahant should have.
The high priest says that Shlok should become next mahant and then asks Shlok to sit beside him for completing the ritual. Shlok asks him to wait and brings Vyas ji's slippers and tells the high priest that till the time Vyas ji comes back he wants his slippers to be here as a symbol of his presence. Shlok tells that he wanted to make Neel proud by winning the contest and won't accept the position until Vyas ji comes back. The high priest is impressed by is pure heart and says that things will happen as Shlok has said. After he goes everyone congratulates Shlok and he says that now he can ask Dua's mom to let her stay here.
Chahat thinks about Neel and gets a call from Bhopu who informs her that Neel and Vyas ji never reached Rishikesh. Chahat panics hearing this and thinks that they might be in some danger so decides to find them. Alka looks towards Aalekh and taunts that this position at least didn't get misused. Aalekh goes away while everyone showers flowers on Shlok. Chahat offers to bring some carrot for the halwa from market so that she can find out about Neel and Vyas ji. Shlok falls suddenly and Alka says that Aalekh might be cursing him so she needs to save him from his bad wishes. Aalekh comes there and shouts at Alka for interfering in the matters of this house and reminds her that she is living here because of Vyas ji and he will kick her out if she continues to get in his way.
Mami says that there is nothing wrong with her worrying for Shlok but Aalekh says that she doesn't have that right. Meanwhile Bhopu expresses his concern to Chahat that Neel and Vyas ji might be kidnapped and she suggests that Aalekh might be involved in this. Bhopu says that he really missed her as she was the reason for Neel's happiness and now he just stays angry all the time. She says that he is living his life as he has his own family. Bhopu says that he also doesn't know how that happened but also says that she should have let Neel know that she is alive and she stills love him. Chahat remembers Vyas ji's promise and tells him that she didn't have any option.
Bhopu suggests Chahat to stay away from Aalekh as he might be angry as hell right now. Meanwhile Aalekh tortures Naveli for saying that she is happy that he did not become mahant. He burns her hand over a candle when someone knocks the door. A man gives her an empty lunch box, he gives Naveli the box and asks her to wash it. After she goes Aalekh instructs the man not to let Neel and Vyas ji escape. Naveli drops a box while washing it, Chahat notices her burnt hand and asks her about it. Naveli lies to her but she is not convinced and says that she will wash these. Chahat sees 'HELP' written in one of the boxes with blood. She asks Naveli who gave her these boxes so she tells that Aalekh gave them to her.
Chahat realises that it can be Neel asking for help and Aalekh might have him. She decides to follow Aalekh to find Neel and Vyas ji. At night Mami comes running to Alka's room telling that Shlok is badly injured. She rushes down and sees Shlok fine while Dua tells her that Shlok was being too stubborn and not eating food because Alka was upset. The episode ends.