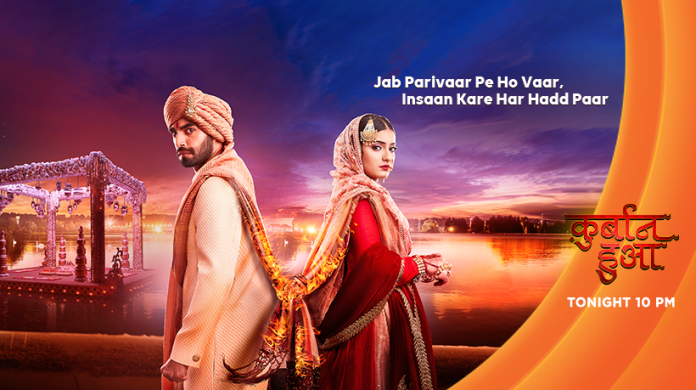 Qurbaan Hua Upcoming Story, Spoilers, Latest Gossip, Future Story, Latest News and Upcoming Twist, on Justhowbiz.net
Mami asks Chahat what she is looking for in the kitchen so she tells that she is looking for vessel to make hot water which she will keep on Neel's wounds to make him feel better. Mami says she will make the water so Chahat goes out when Aalekh sees her and says on phone that whole Dev Prayag should witness the happiness of their house as Neel has come back home.
Chahat confronts him about his happiness and says that earlier he was trying to marry her and now showing this happiness. He starts drama and says that he took that decision because her mental condition was not good and doctor had told him that this is the only way to help her out.
Chahat asks why was she subconscious since many days and doesn't even remember a thing which panics him. But she says Neel needs her right now and goes upstairs after Mami gives her warm water. Aalekh sees Chahat in wrong ways while Naveli asks Mami why she gave warm water for Neel. She tells that she gave warm water with salt in it to punish Neel for spoiling Aalekh's plan.
 Chahat is about to put warm water on Neel's wounds when Vyas ji knocks the door. Chahat asks him to come in while Neel asks him why he is here, and that he was petrified seeing his face earlier rather than hugging him. Neel covers his face while Vyas ji accepts his mistake and keeps his hand above diya to punish himself.
Neel seea Vyas hi burning his hand and stops him but Vyas ji says he was trying to feel the pain he has went through. He says that he wasy petrified but was shook by seeing his condition and couldn't react. Chahat signals him to hug Vyas ji so he hugs him tightly and they both get emotional.
 Mami wonders why is Neel not shouting out of pain while Vyas ji tells Neel that he wanted to come before but he was making this chandan paste for him. Chahat thanks Vyas ji for giving that and he takes away the salty warm water. Mami sees him coming and asks whether Chahat put this warm water on Neel so he says that he has given chandan paste and she is applying that on him.
Around 5 am in morning Chahat wakes up Neel and takes him out, she makes him sit. He asks what is she trying to do so she says that she is doing her duty as a doctor. She takes off his shirt and after that she caresses her wounds, they share a close moment with each other.
 In morning Bhopu bursts crackers in garden and celebrates Neel's presence but when he sees his face he is taken aback. Chahat signals him to relax, so he hugs Neel tightly and then tells that only Chahat was the one who believed that he would come back.
They go in and Chahat says she will get tea, Aalekh and Mami come down and ask who was bursting crackers. Mami signals him to pinch Kripa to make he cry and he does so, Mami says that she is getting scared seeing Neel. She says that Neel looks scary himself like a demon at which Vyas hi shouts at her.
 Mami says that Kripa is feeling scared and asks Neel to stay away from Kripa till his face recovers. Chahat takes Kripa from Mami and asks Neel to hold her but he refuses saying that she will be scared but Chahat insists.
Neel holds Kripa and she smiles after seeing him instead of crying which makes him feel much better and happy. Chahat tells Mami that Neel's heart is pure that is why Kripa will always love him, Vyas ji then says that he wants Neel to do donations at his happy occasion. Neel asks Chahat to do the donation but she convinces him to at least talk to jeweler on phone and says she has an appointment for which she has taken his pictures. Chahat goes out and hears Aalekh and Mami plotting against Neel and asks what are they talking about. She also asks Aalekh what were they doing in the factory that day and he and Mami make some excuse but she doubts them. The episode ends.