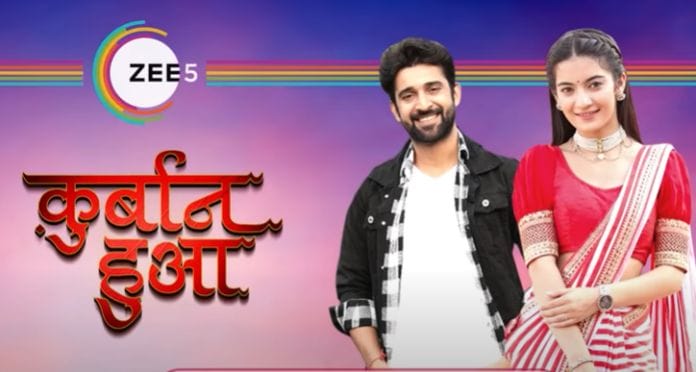 Qurbaan Hua Spoilers, Upcoming Story, Latest Gossip , Future Story, Latest News and Upcoming Twist on Justshowbiz.net
Ghazala and Zain talk to Chahat about her decision to help Vyasji and not take any action against him or the family. Chahat says that she will not do what they did to their family, it is not what her father had taught her. She will take her revenge in her own way and not by torturing someone who is her father's age.
She continued by saying that when her father will return he will take his revenge his own way. Ghazala and Zain get shocked after hearing this. Zain then acted like he got a message from someone. He tells Chahat that it is her father's message and he has said that he is returning back to India and to Devprayag. Chahat gets really happy hearing this. Zain and Chahat both leave. Ghazala gets confused but later understands that it is Zain's plan to increase hatred for Neel in Chahat's mind. Chahat's happiness knew no bounds. She starts jumping around in the house thinking about her father's return.
Chahat goes into the garden to pray for her father. There Neel is making a portait of Chahat. When he was making it, Chahat opened her eyes to see what is happening, He then asked her to pose so that he can make the portrait properly. Chahat got irritated with him and left.
Bhupinder then comes to Neel to see the portrait. He gets mesmerized with what he saw. Neel had made a beautiful portrait of Chahat. Bhupinder then talked about the gift he had got for Neel for his birthday. When Chahat was celebrating in the house, she received a call from someone. It was Zain calling her after changing his voice like Chahat's father. He told Chahat that while he was returning to Devprayag, Neel kidnapped him and he needs to be saved. Chahat got really scared after hearing this.
Ghazala and Zain then come to Chahat. Ghazala gives her a shirt calling it her father's. She said that while she awas waiting at the bus stand for Mr. Baig to return, someone threw this bloodstained shirt at her. Chahat then tells both of them that she received a call from her father saying that Neel has kidnapped him.
Zain asked her to confront him but Chahat refused and said that she will not talk now as he might do something to her father. She said that she will do it in her own time. When Chahat went to the garden, Neel whisteled at her. Chahat ignored him and went away.
Naveli then tied Rakhi on Neel's hand and Dua tied it on Shlok's hand. Both the sisters asked for their gifts from their respective brothers. Bhupinder gets sad as Chahat will not be tying rakhi on his hand. Neel promised him that she will. Then Neel sees Zain coming out in the garden. He went to talk to him. Zain then faked receiving call from Chahat. He manipulated Neel into thinking that she has met with an accident. Neel rushed on his bike to the spot. Ghazala sees this and thinks about what would happen next.
Neel rushes to the spot and tried to remove some stones from the point when someone hit him on the head and kidnapped him. Neel finds that the kidnapper is none other than Chahat herself.