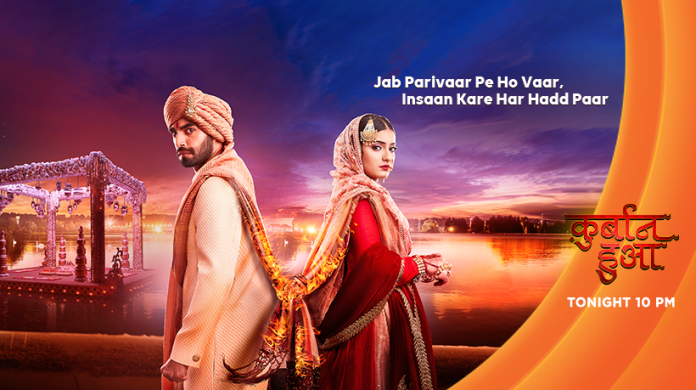 Qurbaan Hua Upcoming Story, Spoilers, Latest Gossip, Future Story, Latest News and Upcoming Twist, on Justhowbiz.net
Chahat asks Naveli what she is doing with Aalekh, that moment Mami comes and covers up for them. She says that Naveli might have called her boyfriend here and gives a signal to both of them.
Then Aalekh also starts drama and says he came her to catch her with her boyfriend and mocks her to convince Chahat. Mami pushes Naveli in anger but Chahat says that Naveli came here to meet her. She says they both come here to talk quite often and signals Naveli.
Mami takes Naveli with her and Aalekh also goes while Chahat worries about her relationship with the boyfriend. Neel comes home drunk and Chahat hears him and goes out to find him. She sees him sitting near the fountain and he shouts that he will tell Vyas ji that he didn't cheat him but he has been cheated himself.
 Neel gets emotional and tells Chahat that in childhood while all father's used to spend time with their kids and celebrate birthdays with them his dad used to always sit in temple and never give him time.
Neel says that Vyas ji spoiled their relation because of his neglegance. Chahat feels bad thinking that because of her mistake all this chaos has happened while Neel says that he will expose her in front of Vyas ji.
 Chahat handles him as he is about to fall and he leaves her hand and says he is not habbitual to people handling him. Chahat sees Vyas ji roaming in garden and takes Neel to a shed before her sees them. He makes noise and Chahat thinks of a way to keep him queit. She asks Neel to play statue game with her and he plays and gets quiet.
Chahat covers Neel to hide him and goes to Vyas ji. He says that Neel won't return home today and asks her to go and sleep. Chahat says that he is also waiting for him and Vyas ji says that he will sleep when he can be sure that Neel is fine.
Chahat says that she has seen Neel's thirst for his love and approval and if he talks to him with ease some times then Neel will be able to feel his worry for him. She tells Vyas ji that she deserves to be blamed for today's incident and he should punish her for that but Neel wasn't lying.
Vyas ji goes while on other hand Mami burns Naveli's hand over a Diya and asks her and Aalekh to promise to not meet in the house alone. Chahat goes back to Neel and makes him sit and offers some food. He says that Saraswati also used to understand that he was hungry when he got angry.
He says that she can never be like her and Chahat agrees and feeds him. Mami lashes out at Aalekh for the stupid act and says Chahat might have caught them and found out that he killed Saraswati.
Aalekh and Naveli promise Mami that they won't meet privately in the house again. Chahat praises the khichadi made by Neel and Neel tells that Vyas ji loves khichadi. He says that his mom used to make khichadi with so much love for Vyas ji but he never appreciated her and even made him feel small.
 He says he always tried to impress Vyas ji but he never appreciated him, he never appreciated his paintings or his achievements and used to scold him for being in kitchen with his mom.
Neel speaks a mantra and refuses to eat but Chahat asks him to repeat it and when he opens his mouth she feeds him.
He is about to throw it but she stops him from doing so. He says her dad at least loves her but Vyas ji never loved him and then falls asleep. Chahat feels bad that Neel got hurt because of her and decided to fix things. The episode ends.