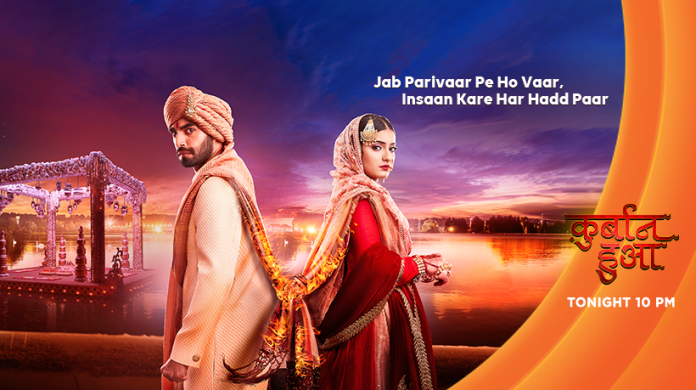 Qurbaan Hua Upcoming Story, Spoilers, Latest Gossip , Future Story, Latest News and Upcoming Twist, on Justhowbiz.net
An intoxicated Neel pulls Chahat close and says that he is not a bad guy but situation is making him do things. He says that Dr Baig killed Saraswati and ran away but he will surely come back for Chahat, he expresses his guilt for torturing Chahat and says that Chahat is so innocent that he doesn't want to think that her dad is the murderer but he can't help it. He starts slapping himself when Chahat stops him. Then she makes him change his clothes and he tries to get up call falls on bed with Chahat.
Neel says that he has become bad but Chahat tries to tell him that he is not bad. He says that she is saying l this to keep his heart. He says that he will become good again and requests her not to leave him alone. Neel is about to kiss Chahat but she pushes him on bed and gets away. Chahat goes to kitchen for making lemon water for Neel while mami's phone rings. She picks it up and Chahat hears Mrs Baig's voice and gets shocked. Chahat asks Mami about it.
Mami says that it's her mom and she has called her to know about her background and talk a bit. Chahat gets worried and Mami says that she won't accompany her to meet her mom. When she turns she finds Chahat gone and becomes more suspicious about her. Mami goes to Neel's room and finds him sleeping, she wakes him up and tells him that Chahat's mom has come here and she has gone to meet her. She says that she overheard Chahat speaking to her mom and has gone to dhobighat for meeting.
Neel rushes out and Aalekh sees him and asks Mami. She tells him everything and they decide to take Vyas ji over there. Chahat reaches dhobighat to find Mrs Baig while she also reaches there. Neel comes too and looks for Chahat. Ghazala sees Chahat there and is shocked as she thought that she had died in the blast. She thinks that if Chahat is caught by Neel's family then they would find them through her. She thinks that Chahat can be a threat to her and Akram so she decides to kill her.
Neel spots Chahat in between the clothes hanging and goes towards her while Ghazala also finds Chahat with a stick. Neel sees Chahat and holds her when Ghazala unknowingly hits Neel with the stick. She realizes he is Vyas ji's son and runs away. Chahat holds Neel while he struggles with the pain in head. That moment Vyas ji reaches with Aalekh and Mami and sees them in a position which he feels like a compromising position and gets angry.
Mami ji starts doing drama and pulls Neel away from Chahat but he is in subconscious state so he can't handle himself. She asks Vyas ji to forgive them but he gets angry and says that she called him to show this thing. He says that now they will be married properly within two days which shocks Chahat. Later at home Neel wakes up and sees decorative setup outside when a boy tells him that it is for his engagement. Neel is told that Vyas ji saw him romancing with Chahat and hence this decision was taken. Mama ji asks him to get ready soon and he gets worried. The episode ends.