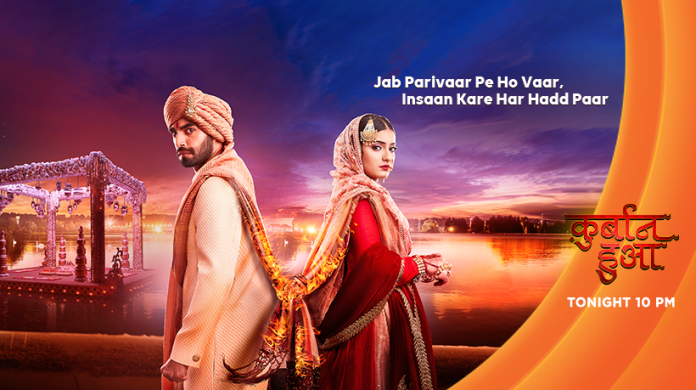 Qurbaan Hua Upcoming Story, Spoilers, Latest Gossip, Future Story, Latest News and Upcoming Twist, on Justhowbiz.net
Chahat thinks about Neel thanking her and feels miracle happened. She remembers the moments with him and feels nice. She hears the chandlers and comes out of thoughts and feels that this way she will learn cooking also.
Mami tries to console Naveli saying that the producer must be blind to not recognize her talent and taking in Chahat. Aalekh comes and asks for a tea and shows them a shawl. He says that Vyas ji has asked him to sit in today's Pooja with him and it's the first time this is happening. Mami finds a way to keep Chahat busy to not let her appear in the show.
Naveli asks her what she is thinking and she tells that she will make Chahat do all the housework and cleaning. Chahat is eating chapati when Mami calls her to tell that there is a letter for her.
Chahat runs to check but Mami says that she used this trick to call her down  and tells her that she has to clean the whole house before the pooja starts. Neel also asks her to do so to trouble her. Aalekh comes with an envelope, he opens it and finds a hand's x-ray scan.
Chahat gets stressed thinking that the hospital authorities might have sent Golu's report to the house. Aalekh asks who took Golu to hospital without his permission and Neel sees Chahat signaling him. He says that he took Golu to hospital to get his hand checked and says that doctor has said that Golu's hand will be fine in some days.
Neel then asks Chahat to come alone with him and takes her. Neel asks Chahat in room why she took Golu to hospital and she tells that she wanted to know the reason behind the hairline fracture.
Chahat tells that Saraswati must have had an internal injury but Neel asks her to prove it for which he needs the reports. Chahat says that those reports won't tell anything about the injury and asks him to ask from the doctor.
He calls the doctor and asks him whether the reason for Golu's fracture can be Saraswati's internal injury. Doctor says that it can't be completely sure as there can be many reasons. Neel lashes out at Chahat saying that she can't save her dad with these theories.
Mami calls Chahat for cleaning the house while Vyas ji comes and and says that he wants that Chahat washes the mandir today. Chahat gets tensed while Neel thinks that if Vyas ji finds out that he made a Muslim clean his mandir then he will create havoc.
 Neel says that he needs Chahat for his show and she won't be able to clean the temple. Vyas ji then asks him to do the task and he agrees and leaves. Vyas ji asks Mami to inform mama ji if a man from temple comes.
Chahat gets an idea for avoiding going to temple for which she calls Neel. She sees him entangled in dust and hugs him to get some of the dust. Mami sees them and Neel goes while she asks Chahat to go and take a bath before cleaning the temple.
Chahat tells Mami that the shower doesn't have water which is actually her plan and Mami checks it. Chahat requests her to clean temple and she will clean the storeroom.
Aalekh is happy thinking that he will be sitting in Pooja with Vyas ji and realizes that he is not wearing his rudraksh mala and is tensed thinking where it is. Chahat goes to storeroom where she finds the rudraksh mala while Aalekh remembers where he kept it.
Chahat thinks whose mala it could be whiel Aalekh gets insecure thinking that Chahat will tell Vyas ji and tell him about it. The episode ends.