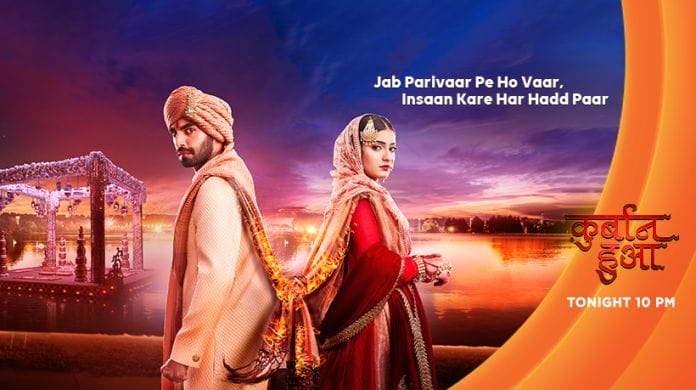 Chahat wears the mangal sutra, Neel comes and she asks him about Vyas ji and what doctor said to him. He tells that doctor told that they need some injection and it costs around 15 lakhs. She recognizes it by the name but is worried how will they arrange the money so he says that they will arrange together. Next day, a senior doctor praises Chahat for her work and says that she will become capable and of handling OT in some months. She thanks him and tells him about medical emergency at home and requests for some advance payment. The doctor gets a call and goes avoiding that topic, she hopes that he will help her for her good work.
Chahat realizes that she can't find the mangal sutra and gets restless to find it. Neel is in the same hospital working as waiter and helps a man who is feeling sick. He hopes that he shouldn't come in front of Chahat else her respect will be shattered. A spoon falls and he bends to pick it up and finds a mangal sutra. He wonders that the person might be finding it and starts asking everyone while Chahat is also looking for her mangal sutra. A doctor comes and tells Chahat that patients keep asking for her which makes Neel proud and he smiles.
A nurse taunts Neel for stalking Chahat and he is about to tell her that she is his wife but stops as he doesn't want people to make fun of Chahat. So he makes an excuse and says that she is his role model and he wants to cure people by giving good food. He makes up the nurse's mood and she sees the mangal sutra from him and says she will find the owner. He goes  while Chahat asks doctor for advanced payment but he says that it is tough but she can double her salary by doing night shifts. She agrees to the idea and that moment she takes her mangal sutra from the nurse.
Seeing it the doctor tells her that night shifts are only allowed for single doctors as per the rules. She makes an excuse that this is her patient's and she is single. She requests him to let her join night shift so he asks her to start from today. Later, she goes to Neel and asks him why he didn't come inside the compound so he makes some excuse of parking problem. They share an eye lock when she sees her senior doctor and moved away making excuse of bringing tea. Even Neel hides his face seeing the doctor, after sometime he leaves so they both are relieved. She tells him that she has got permission for night shifts and she will get double salary.
Neel expresses his happiness but then Chahat asks him about his job so he tells her a lie. She hugs him out of happiness and goes back to work while he decides to work double shift as well at hospital. Mami praises Aalekh for making Neel work as a waiter but he says that he has kept a competition at hospital whose prize money is 10 lakh rupees and Chahat will definitely want to participate in it and only married couple can take part in it. Mami laughs out loud and Aalekh tells that Vyas ji is invited as chief guest there and more drama will be there.
Chahat worries about Neel sitting in her cabin and finds a lunch box with chips in it. She eats the chips and Neel watches her and smiles. The same nurse again interrupts him and then asks him to bring Chahat's lunch box and wash it. He has to go in but Chahat comes and calls him so he runs away in fear that Chahat will find out. She stops him and gives her flask to fill water so he takes it and goes. The nurse tells Chahat about the competition and prize money so Chahat decides to participate and wonders how to convince Neel for this. Next morning Mami tells Chahat that Vyas ji is invited to his hospital for the competition but forbids her to participate. She decides to impress Vyas ji and win money for Vyas ji and takes off Neel's jacket in room. She tells him that she wants him to wear a kurta in today's program. Vyas ji reach the hospital with Aalekh and Mami while Ghazala also comes with Dadi ammi. Ghazala tells that she has been invited as chief guest here. The episode ends.