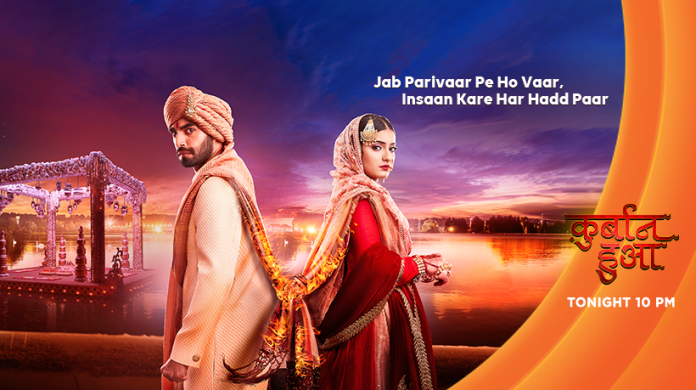 Qurbaan Hua Upcoming Story, Spoilers, Latest Gossip , Future Story, Latest News and Upcoming Twist, on Justhowbiz.net
Mami performs the griha pravesh ceremony while thinking how could she have mistaken Chahat that time. Vyas ji asks Mami to bring rest of things for completing the rituals but Chahat gets a bit tensed as she doesn't know what rituals take place. Aalekh teases Mami about mistaking Chahat for someone else. Mami says that she had seen Chahat only but Aalekh doesn't believe her and asks her to prepare for griha pravesh. Chahat gets worried about the rituals.
Neel gives Chahat a phone and tells her that he will send her the name and pictures of the rituals. Mami keeps the kalash in front of Chahat and she wonders what to do with it. Neel sends her photo of a football player to say that she has to kick it. Chahat takes a poster to kick it like football and Neel gets shocked realizing what she was about to do. He quickly holds her legs and Vyas ji asks what he is doing. He says that he wanted to thank Chahat for loving him, he holds her hand and quietly says that she just has to push the kalash and not kick it.
Chahat does as told by Neel. Then she does the next ritual and prays that there are no more of them but Mami says there is more. Mami brings a bowl with color and asks Chahat to put her both hands in it, Neel sees and quickly sends her a photo but her phone is with mama ji. Neel tries to tell her through signs what she has to do. She thinks that the color in her hand is to be applied on Vyas ji and moves towards him.
Neel holds her and makes her do the ritual in the right way. Later they both get into a heated argument over what she was about to do. He taunts her that doesn't she watch any films that she doesn't know anything. She says that she mostly used to study, but she then asks him to stop this nonsense and tell her about the rest of the rituals. He then asks her to come with him but she goes to wash the color first. Chahat goes towards washroom but Aalekh and Naveli are inside. She knocks and says that she has come to wash the color.
Naveli asks Chahat to wait for a minute but Chahat hears someone else's voice too. Naveli says that she was talking to her friend with phone on speaker. Mama ji comes to take Chahat and she says Naveli is inside the washroom so he asks her to wash hands in other washroom. Chahat and Neel do the ritual of finding ring in which she finds it first but Neel also finds it next time. In the final round also Neel finds the ring but after a moment realizes that it is not the ring. Chahat finds the ring and wins the challenge.
In the next game they both come very close to each other but Chahat pinches him and eats the chocolate. After that in final round they had to come very very close which they didn't want so Chahat diverted everyone and quickly ate the last item and won. She then starts coughing so she goes towards kitchen where Mami and Aalekh are present. Mami shows him that there is no sindoor on Chahat's head.
Mami tries to expose her truth by asking her where is her sindoor. Chahat makes some excuse. Neel comes and says that there is no need to show a proof of their marriage but Mami doesn't get convinced. She brings a plate with sindoor and asks Neel to put sindoor on Chahat. The episode ends.