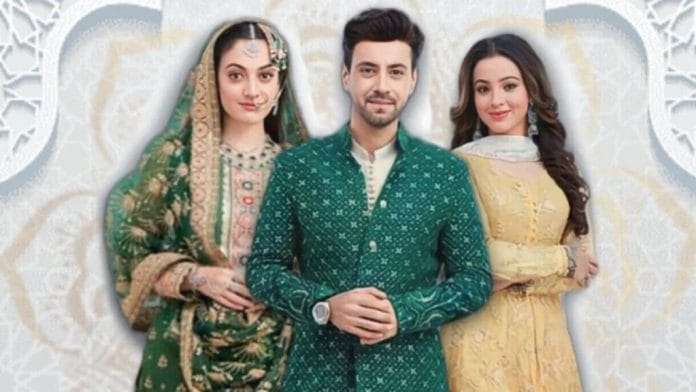 Rabb Se Hai Dua Upcoming Story, Spoilers, Latest Gossip , Future Story, Latest News and Upcoming Twist on Justshowbiz.net
In today's episode, Gulnaaz praises Gazal. Flashback shows that she has secretly heard the conversation of Hina and Dua regarding Hina's secret. She asks Gazal what was the need to break the late father's stick. Gazal says that Gulnaaz can't see the big picture. She believes that none can kick her out of the house now. Gazal says that she has to do the stick dramma to end Dua's reliability in the house as none will believe her after today. Gazal says that Gulnaaz can be Rahat's second wife but she doesn't want second wife's status of Haider. Gulnaaz asks what's next. Gazal says marriage with Ruhan. Gulnaaz gets shocked.
Gazal says that her target will be Haider only. She proposes to prepone the marriage date. Gulnaaz says that she can't wait to see Gazal in Haider's arms. Gulnaaz does crying dramma to stop Gazal. Gazal laughs. They go downstairs. Dua tells Ruhan that she has not changed she just wants to protect him. Ruhan asks her to stop her dramma already. Qainat criticizes Ruhaan for misbehaving with Dua and trusting Gazal in place of Dua. Ruhan says that he has changed. Noor suggests him to not argue with Qainat as it's useless. She says that Dua has made everyone her servants. Rahat scolds Noor for talking harshly with Qainat.
Ruhan says that he has equal rights in house and he will speak against injustice always. Gulnaaz supports Ruhan and says Dua is wrong. Rahat asks her to keep quiet. Ruhan complains that they are not valued in the house. Dua asks God to stop the family from scattering. Ruhan and Noor say that they won't tolorate this anymore. Hina blames Dua for the conflict. Gazal, Gulnaaz smile at each other. Dua sees them and feels helpless. Gazal asks everyone to stop. She blames herself and gears up to leave the house. She asks everyone to not stop her. She asks whether she made a mistake by deciding to marry Ruhan. She wonders what else can happen post their marriage.
Ruhan asks her to not go. Gazal says that she is leaving as Dua doesn't want her inside the house. Ruhan congratulates Dua for destroying him. Hina tells Ruhaan that she is still alive and won't let Gazal go anywhere. She promises to get him married to Gazal at any cost. Gulnaaz requests Dua to let Gazal live at peace. She asks Dua to sympathise with her atleast. She cries and says that she wants to see Ruhan getting settled with Gazal. Ruhan hugs her. Hina falls sick. Gazal shows fake concern for Hina. Hina requests Gazal to not leave.
Dua says Hina's bp might got low and goes to bring water and sugar. Gazal snatches the glass from Dua's hand. Hina drinks the water. Gazal gears up to leave again. Hina tries to stop her. Haider holds her hand and asks her to stay back. He requests Gazal to stay back for Hina's sake. He apologizes to her on Dua's behalf. He warns Dua to not interfere. Haider begs before Gazal. Gazal holds his hands and hugs him. Dua gets irked. Gazal asks Haider to not stop her as she is helpless. Hina asks Dua to apologise to Gazal for the sake of family's happiness. Gulnaaz says that she wants Dua to fall on Gazal's feet and begs for forgiveness.
The episode ends.