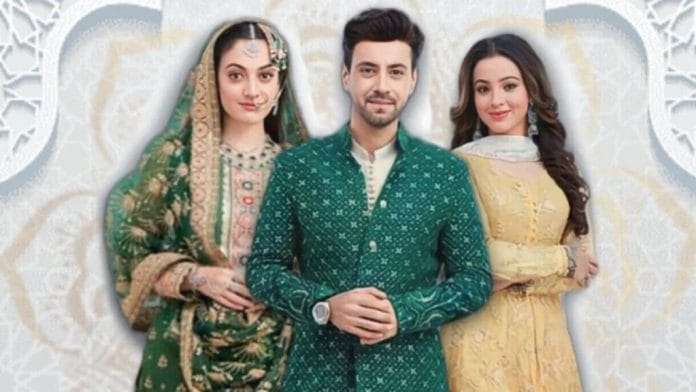 Rabb Se Hai Dua Upcoming Story, Spoilers, Latest Gossip , Future Story, Latest News and Upcoming Twist on Justshowbiz.net
The episode starts with Gulnaaz requesting Hina not to treat Dua like that. Hina mocks at Gulnaaz. She says that Dua has to leave Haider's room. Kaynaat says that she is doing injustice to Dua. Hina says that she didn't grow up to take a class for her. Haider notices Dua isn't there and goes behind her. Gazal thinks that he is just always going behind her. Haider stops Dua from packing her things and asks her to forget everything. Dua asks him how she will forget the way he betrayed her? How would she forget he was disloyal to her and he brought Gazal to her house. She won't forget the way Hina humiliates her. Haider says that he won't allow her to leave. Gazal thinks that let her leave Haider, because she has to start a new life with him. Haider stops Dua from leaving and says that she won't leave. Dua took his hand from hers. She asks him what she will do by staying in this house? She doesn't even have a room in this house. She spends her beautiful moments with him in this house. They share their happiness and pain in this room. He betrayed her in that room. This wall will laugh at her for staying in this room anymore. Why should she stay in this room? Dua leaves from there taking her luggage. Gazal enters into the room at the right time. Hina stops Haider from going behind Dua. He pushes her hand away.
Hina asks Haider to listen to her. God blessed him with a new life. From today it's Gazal's room. Gazal congratulates herself on her victory. Gazal thanked Hina for giving her rights to her. She says that Hina fulfilled her wish and thanked her. Hina tells her that no one will trouble her until she is alive. She won't allow her to go through the same pain she felt. Gulnaaz says that she was giving the same pain to Dua. At least Rahat married her out of love. But Hina is forcing Haider to live with Gazal, unaware of her real intentions. Hina shouted at her. Gulnaaz says that she is still the same person who made her cry day and night. Gazal says that she shouldn't forget that her daughter is here to support her. Dadi asks her to stop arguing with her. Let's stop Dua. Haider congratulates Hina for snatching Dua's room from her and giving it to Gazal. She can snatch her rights from her but she can't remove Dua from his heart. She is always living in his heart.
Haider says that he won't allow Dua to leave this house. When she leaves from this house, then everyone will lose the right to stay in that house. He follows behind Dua. Hina chases him behind. Meanwhile, Eihchaaz reaches near Ruhan. Hafeez keeps a close watch on him. Eihchaaz scolds the goons for not taking proper care of Ruhan. If he died, then he had to answer Gazal. Hafeez thinks that he can't handle them alone and calls Ravi to get his help. He sends a message to him. Dadi asks Dua why she gave her room to Gazal? She has all the rights to stay in that room. Dua says that she gave that room to her. Gazal likes to use the things she uses. Let her take that room. She won't mind. Dadi and the others ask Dua to stay with her. She thanked them for showing their love for her. Dua gave a fitting reply to Hina. She says that she hasn't won her Sautan heart yet and is separated from her family.
Hina asks Dua to stay in the guest room because they asked the guest to stay there. Dua says that she has decided where to stay so she doesn't need her help. Hina asks her why she is going to her room? Hafeez tries to contact Ravi. Dua removes Hina's clothes from Almira and says that she is creating a place for her. This room deserved a person who was left by her husband. Now Haider left her. She gave a fitting reply to Hina. She has a good destiny with her. She recalls her wounds. Dadi feels proud of her. Gazal says that she shouldn't talk like that with Hina. Dua asks her to shut up. If she wants to get another slap from her? First wives talk with each other. She demands her to stay back. Gazal had to take to this room when Haider brings his third wife. She will go through the same pain she felt. She will feel more pain from herself. There is more space for a third person in this room.
Episode end