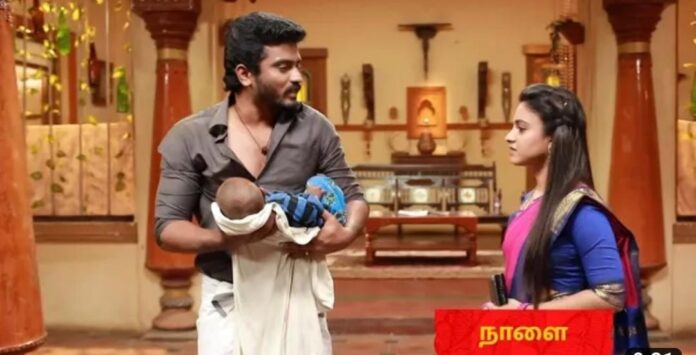 Raja Rani 2 Spoilers, Upcoming Story, Latest Gossip , Future Story, Latest News and Upcoming Twist on justshowbiz.net
Vijay TV's popular show Raja Rani serials never fails to entertain it's audience. Now serial focuses on Sandhya joined in her IPS training. Sandhya goes missing
In the previous episode we saw; Ravi asked Sivagami to send Sandhya to attend training tomorrow. Sivagami told him that she wanted to reach the training academy early to practice well. Sandhya shared the same thoughts to Ravi. Ravi appreciated their same wavelength. Sandhya advised Archana to don't trouble the family and take care of Jessy.
She advised Senthil to keep the contest matter outside and never let anyone come between brothers loves. Later, Saravan dropped Sandhya in bus stop. She gave a emotional send off to him. Meanwhile, Mangalam brought a priest to Senthil house and blessed him to win in the contest. Sivagami argued with her for creating rift between two brothers. Mangalam insulted her there.
In the upcoming episode viewers will see; Sivagami will complaint to Senthil that she won't accept anyone badmouthing her children. both Saravanan and Senthil are same to him. Archana will create a scene and left from there. Meanwhile, Gauri will inquire Abdul about Sandhya?
He will inform her that he doesn't know anything about her. Jyothi and Saravanan will try yo contact Sandhya but her phone was switched off. Gauri will disappoint with Sandhya. Later, Saravanan will console the crying baby. Archana will create a scene for take her baby without her permission
What will happen next? Will Sandhya become a IPS? When will Archana's truth come out?
Upcoming episode will answer to our all questions stay tune with our space for more update