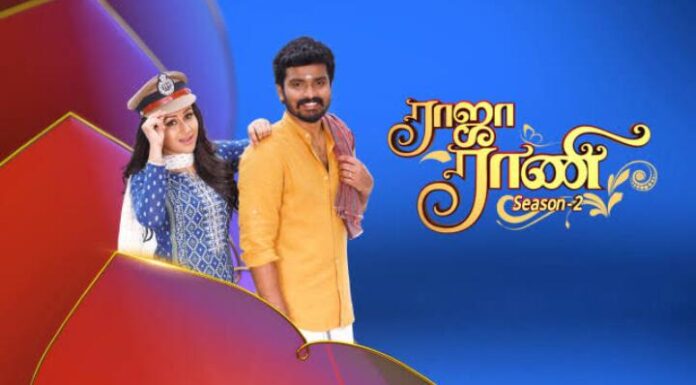 Raja Rani Upcoming Story, Spoilers, Latest Gossip, Future Story, Latest News and Upcoming Twist, on Justhowbiz.net
The episode starts with Sivagami asks to Saravanan how is chatni taste? He replies as bad. Mayil informs to him that Sandhya cooked it. He lies to them that chatni is not bad when he eats with Idly. Aadhi teases him that he lied after comes to know that Sandhya cooked it. Saravanan deny it. Senthil too smiles with him. Sivagami comments that Saravanan supports Sandhya even she cooked Chatni in neem taste too.
Sivagami asks Archana to throw the chatni outside by saying even dog won't eat this. Sandhya feels bad to hear it. Sivgami comments that Sandhya doesn't know cooking at all. Sandhya says to her she will cook another one. Sivagami replies that she took 30minutes to cook one chatni they can't wait more for her. Sivagami asks Mayil to bring idly powder. She serves it to all. Sivagami asks Sandhya to leave. Archana smirks seeing her. Sivagami asks Archana to stop staring Sandhya in that way. Atleast Sandhya cooked for them but she didn't do that too.
Sivagami asks Senthil to scold Archana for not doing household works. He nods. Sivagami tells him that he wants to give money hereafter for family expenses. Don't dare to burn the gudown for it again? Senthil nods again. Sandhya sits in varanda sadly. Mayil comes there and tells to Sandhya that Sivagami treating her badly. Even Mayil gets pain while grind in Ammi then how come Sandhya do it properly in her first day?
Mayil appreciates her patience comparing to her studies. Sandhya asks to Mayil why did everyone thinking that educated persons don't have patience? Mayil replies that Sivagami intentionally doing this to Sandhya so she can raise her voice against Sivagami. Sandhya replies that she wishes to learn everything and get good name from Sivagami. Paaru comes there and gives bunches of clothes to Sandhya. She asks her to wash everything.
Sandhya puts all clothes in washing machine. Sivagami comes there and says to her she asked her to wash in hands. If she wash clothes in washing machine then stains won't go. Sandhya agrees with her. Sandhya is washing the clothes in hands. Sivagami comes there and teaches to Sandhya how to wash it properly. She comments that Sandhya don't know anything. Saravanan comes to take flour. Sivagami comments that he is here to meet his wife. He deny it. Mayil informs to Saravanan that Sandhya is washing clothes. He tries to help her but Sandhya deny it. She assures to him that she wants to win Sivagami's heart.
Sivagami's husband inquries to her Isn't she using mixi and washing machine now a days? She replies to him that she is using this all. He questions her then why did she punishing Sandhya. Sivagami shares her fear with him that Sandhya may hurt Saravanan's feeling. Her education will create problems inbetween them. Her husband tries to convince her. Saravanan notices that Sandhya is tired and tries to sleep in empty stomach. He brings milk to her and starts massaging her leg.
Episode end.