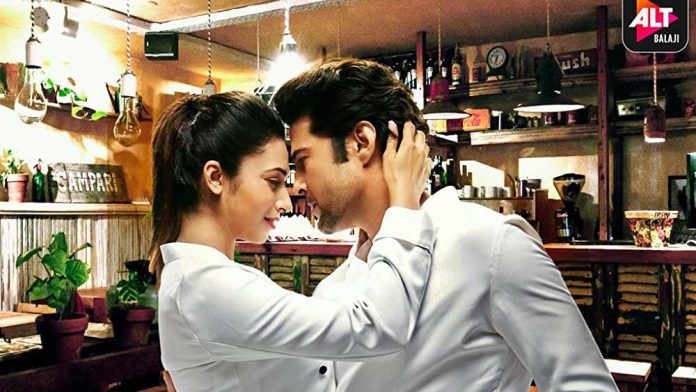 Alt Balaji is bringing Indian TV's two most popular faces, the handsome Rajeev Khandelwal and pretty Divyanka Tripathi in a cool and spicy mix of "Cold Lassi aur Chicken Masala".
With a tagline of 'present ki nafrat aur past ka pyaar, hogi yeh kahani masaledar', the narrative of the teaser takes you on a journey of Nitya (Divyanka Tripathi) and Vikram (Rajeev Khandelwal). The episode starts with Nitya saying "Tune toh iska taste hi badal diya!" to which an amateur cook Vikram replies, "aise hi nahi kehte mujhe chef Vikram!"

And just then the teaser cuts to present, where Vikram is now a two michelin star chef and Divayanka and Rajeev's character are working together in the same kitchen. The atmosphere is clearly tense and you can feel the tension and subtle anger and suppressed emotions, all in contrast of the past love they have shared over food.

Towards the end of the teaser Rajeev's character Vikram says, "Jo log khana naap tol ke banate hain na, vo na khana acha banate hain na i pyaar acha karte hain, tum kis type ki ho?" to which Divaynka's character Nitya replies, " Naap Tol je type wali!"
What you can expect?
Going by the teaser the show will focus on Nitya and Vikram's journey from love to hate with the background of gourmet cooking. It will focus on relationships, inner battles, work competition and internal and external conflicts.
Chemistry between the leads
There is enough chemistry in the leading pair for you to sink in and the duo compel you to watch and invest even if you are not a fan of either of them.

Are the actors any good?
YES! YES! YES!
Rajeev nails the raw amateur cook in the start of teaser and looks as suave as a man can get in suits later. (WE DO CRY AT THE HOTNESS!!!!). Divyanka get to explore a whole new arena of natural acting with a character closer to reality and its a refreshing change.

Storyline
It's an interesting concept and something that hasn't been explored. A love-hate story with a backdrop of gourmet cooking does sound interesting, doesn't it? Also, the treatment of the show looks real good with a solid script enhanced by a good dialogues.
This is the first time that viewers will see Divyanka in a contemporary modern girl role sans her traditional avatar whereas Rajeev Khandelwal was last seen on Zee Tv's Juzzbaat, a celebrity talk show which he hosted. Where, Rajeev has proved his mettle on all mediums, we will have to wait for the show's release to see if Divyanka is able to convince us in her new skin.
If you haven't still, well watch the teaser, here you go.
Till we count the days of its release, well let's keep bizzzinnn'!!!!!