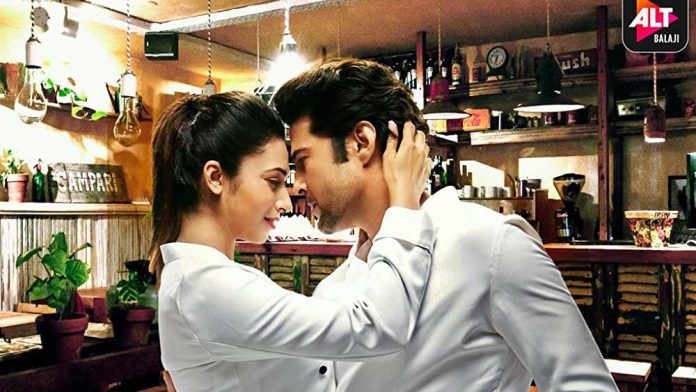 Alt Balaji's 'Cold Lassi aur Choicken Masala' trailer dropped last night and it has a lot going on.
If the teaser gave more information about Rajeev Kahndelwal's character Vikram then the trailer has given us sneak peek at Nitya's life. (Divyanka Tripathi)

"Table Two Malai Chicken Moussee, yeh restaurant maine banaya hai" you hear Nitya say. She doesn't care if someone threatens to leave her restrauant.
"Aao toh welcome, jao toh bheed kam! Nikal Lo!" That's her policy and she is always angry, something she doesn't realize herself.
Just then Vikram enters the scene and as they come face to face we are treated with their past memories and their raw selves. In the past Nitya seems in awe of Vikram's cooking as she says, "Kya banata hai yaar sachi!"

But everything is just at opposite in the present. Nitya can't even stand Vikram and wants to quit but she cannot because an unbreakable clause has been signed on her name. And thus begin the push and pull with Vikram and Nitya at odds.
The one thing that seems interesting in a flashback is Vikram saying, "Nitya please, mujhse bohot badi galti ho gayi!" while Nitya is packing her bags.
Vikram thinks she is trying to run away because she cannot handle the proximity and Nitya is ready to give back. Where Nitya is all about perfection, Vikram is everything about experimentation.

The tagline of the trailer says, "Waqt ki aanch pe love ko pakaya, jal gaya love jab life ne drama ka tadka lagaya" and it seems just right because Vikram only needs a chance from Nitya and she doesn't seem to have it for him.
How these two come together in professional and personal life is something to watch out for.

A lot of love, passion and anger is served in this trailer and Divyanka and Rajeev share great chemistry. It's a fresh pair which might turn out to be a fan favourite by the end of the show
.
The show is directed by Pradeep Sarkar. It is written by Doris Dey and Jaya Misra. The show will be available for streaming from 3rd of September, 2019. If you haven't yet watched the trailer, here you go,
Tell us about your favourite bits from the trailer and till then let's keep bizzzzinnn'!!!