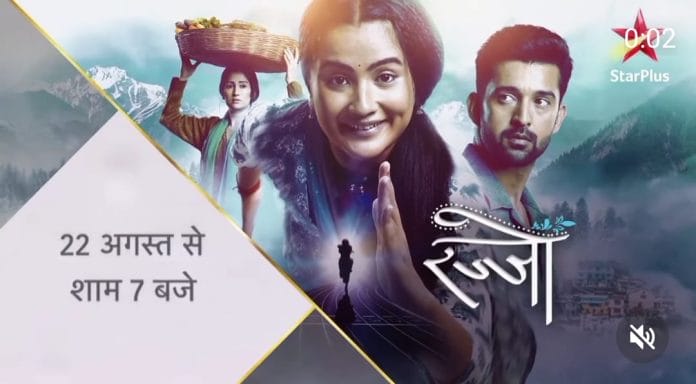 Rajjo Upcoming Story, Spoilers, Latest Gossip, Future Story, Latest News and Upcoming Twist, on Justhowbiz.net
The episode starts with Pushkar saying to Manorama that she deceived Chirag by pretending to lose her memory and entered the Thakur house when she couldn't use Arjun for the same. He says that she is a great player. Manorama pretends not to recognize him. But Pushkar refuses to believe her. He threatens to kill Rajjo if Manorama tells Rajjo about his truth. He makes Manorama stumble. Manorama falls on the floor. Rajjo rushes to her mom and asks her if she's fine, while Madhu and Jhilmil scold Rajjo and Manorama for breaking the costly tea crockery set. Manorama is shocked when Pushkar announces that he is going to stay at Thakur mansion till Arjun's wedding. Madhu is happy and says that the next day is Arjun's Tilak. 

Manorama sits in a corner and cries. She says that Pushkar wouldn't dare to threaten to kill Rajjo if Arjun was standing by Rajjo's side. But Urvashi poisoned Arjun's mind against Rajjo. She decides to expose Urvashi to Arjun by showing him the bank statement. Manorama is shocked to realize that the papers got spoiled after being drenched in the tea. She cries. 
Rajjo goes to Arjun's room. Arjun is bare chest and chooses sherwani for the Tilak ceremony. Rajjo admires Arjun. Maine tera naam dil rakh diya plays in the BG. Arjun notices Rajjo. He scolds her for not being with Urvashi and serving her. He lifts her and pins her to the wall. He asks her what she is doing here. Rajjo thinks that she came to give him the letter, but she got lost seeing his biceps. She wonders if Arjun will believe her if she says it. 
Manorama is looking for Rajjo to alert her about Urvashi's plan. She hides on seeing Pushkar. Chirag gives Pushkar the mouth freshener. Pushkar says Chirag to be careful as he is going against the family nowadays. Chirag says that he is careful as he isn't drunk and asks him not to interfere. Here, Arjun urges Rajjo to tell her why she has come. Rajjo asks Arjun to put her back on the ground. She says that she has come to give him some bank papers that his dad asked her to give him. Arjun leaves Rajjo. He asks Rajjo to knock the door before entering his room as he is going to get married. He notices that Rajjo is still having the nuptial chain and vermillion. He asks why she still has them. There, Madhu requests Pushkar to do something so that Arjun throws Rajjo and Manorama out of the house. Pushkar agrees. Madhu thanks her and leaves. Here, Rajjo prevents Arjun from removing her nuptial chain. She says that she will remove them the day when she will prove her and her mom's innocence. She says that till that she will wear them daily so that Arjun also gets stuck in them and agonizes like her. She asks Arjun to free her if he wants to get rid of her. 
Rajjo goes to her mom and lays down next to her, hugging her. Manorama thinks that she can't tell Rajjo the truth as Urvashi or Pushkar are keeping a close watch on her. Rajjo thinks that Manorama is sleeping and starts to talk. Rajjo says that she is worried about Arjun and expresses her helplessness about not being able to expose Urvashi despite knowing her truth. 
The episode ends. 
Precap: Rajjo and Arjun take a selfie together. Manorama wonders where Rajjo is and thinks of telling her Pushkar's truth. Rajjo cries, seeing Arjun with Urvashi. Manorama throws a shoe at Pushkar and hides.
Click to read
Rajjo 27th November 2022 Written Update: Manorama collects evidence against Urvashi