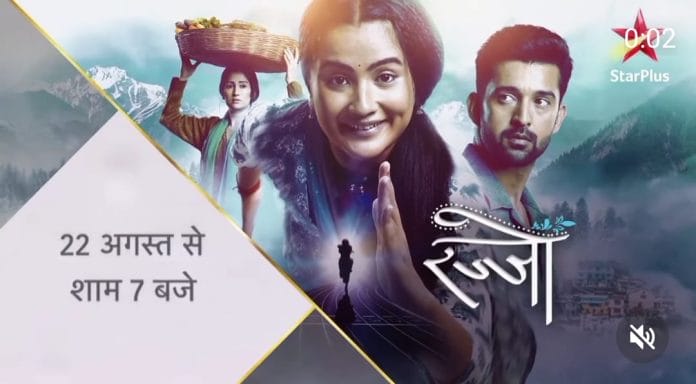 Rajjo Upcoming Story, Spoilers, Latest Gossip, Future Story, Latest News and Upcoming Twist, on Justhowbiz.net

The episode starts with Kalindi asking Arjun to open the door. Chirag tells her that he needs time to get ready. Kalindi asks him what he is doing inside? He tells her that he was helping him to get ready. Kalindi doubts his intentions and checks him through a window. She notices him helping the groom. Chirag notices her and sends her there. Chirag pretends to help a fake groom. The priest asks Kalindi to bring the groom and bride to the mandap.
Meanwhile, Rajjo notices Swara and assures her that Amit is alive. They are searching for him. Just keep her mobile with her to contact her. Swara advises them to be careful. Everyone is trying to separate them but god won't do it. Arjun takes Rajjo from there. Meanwhile, Swara meets Niharika. Niharika asks her how she dare to double cross her. She was helping Rajjo in secret. She was aware that Amit was locked inside this house. She tried to reveal her miscarriage drama. Swara tells her that she is aware of the truth. If the truth comes out, it is also not wrong because she was wrong. Niharika says that she was supporting a person who sent her father to jail. She asks her didn't Rajjo hide inside this house? Swara asks her to kill her if she wants. Niharika tells her that no one will dare to stop her.
Arjun says to Rajjo that he doesn't know what is going on here. It's a risk to send her alone to Niharika's room. We have to go together. He won't leave her alone. Rajjo tells her it's time to meet her. He tells her she was a dangerous person. He asks her what she is trying to do. Rajjo shows Amith's phone to him. He questions her how it came to her hand? She tells him that she stole it. She trusts Amit but not Niharika. If we send a message to Niharika from Amit's phone. She will search for Amit. Arjun appreciates her idea. Meanwhile, Niharika threatens Swara. Swara says to her that she is betraying this family. Niharika tells her that she will become a daughter-in-law of this house. She won't leave anyone in this family. Swara gave a fitting reply to her. She received a message from Amit.
Pushkar notices the tension in Niharika's face. He inquires her what's going on here? Niharika tells him that she is carrying Amit's baby. He was an athlete at his academy. She says that she found out about her pregnancy recently. She is well aware that she has no future with Amit. That is why he is taking advantage of this situation. Pushkar scolds Niharika. Niharika says that he did the same. He was in an illegal relationship with Manorama after being married to his mom. She gave birth to Rajjo. Pushkar assures her to help her. Niharika reveals to him that they brought Amit here. She hid him from their sight. She thought he was dead but he didn't.
Meanwhile, Madhu demands Chirag to open the door. She is shocked to find that Arjun is missing. Chirag tries to convince her but she tells him that Niharika is perfect for Arjun. She won't accept Rajjo. She demands him to take Arjun to the mandap in five minutes. Chirag thinks that she doesn't understand his love for Rajjo. Meanwhile, Arjun finds that Pushkar is going to help Niharika. Later, Pushkar meets Amit and threatens him. He says that he messed up with his family. He is going to punish him for making him a fool. He points a gun at him. He shoots Amit. Later, Pushkar informs Niharika that he has finished the job. She is able to attend the wedding without tension. Chirag brings a groom to Mandap. Kalindi grows suspicious seeing Chirag's happy face. She removes the veil from the groom's face. Madhu asks her where Arjun is. Arjun comes there, taking Rajjo with him.
Episode end
Precap; Madhu will ask Rajjo if she had planned something against them. Rajjo will tell her that she didn't, but Niharika. Madhu will tell her that she will deal with it. She will demand her to leave the house. Arjun will tell her that Rajjo won't leave this house. Rajjo will reveal to Kalindi that Niharika is carrying Amit's baby.
Click to read
Rajjo 1st March 2023 Written Update: Chirag joins Arjun's plan and decided to help locate Amit