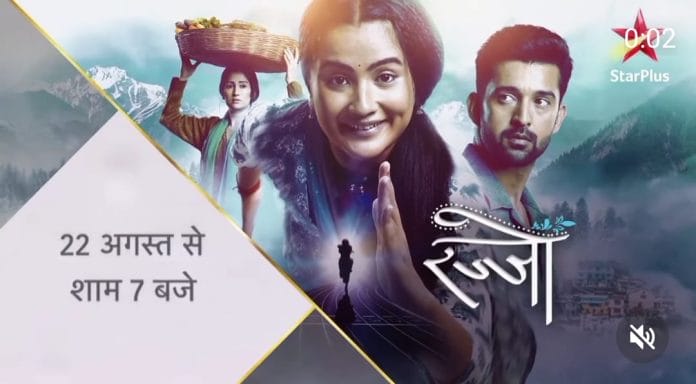 Rajjo Upcoming Story, Spoilers, Latest Gossip, Future Story, Latest News and Upcoming Twist, on Justhowbiz.net
The episode starts with Arjun wondering how to handle Rajjo, who will be upset. Chirag goes to Arjun and advises him to handle Rajjo with love and not to scold her. He leaves. Arjun wonders how to console Rajjo. He says that he can see her crying. He sees Rajjo crying, standing. Arjun imagines hugging Rajjo to comfort her and then wiping her tears by rubbing his cheek with hers. Bolna Mahi Bolna song plays in the BG. Arjun comes to reality. He is about to talk to Rajjo. Manorama interrupts him. She apologizes to Arjun and takes Rajjo apart to talk to her. 
Manorama asks Rajjo if she's fine. Rajjo bursts into tears, hugging Manorama. Manorama consoles Rajjo by saying that though Rajjo lost the race, Arjun made her win her life's race by saving her. She further says that she loves him, so he saved her. Rajjo thinks that she wishes it could be true, but it's not. She thinks that Arjun and her are together only because of the game and maybe their relationship will only continue till her game. Manorama assures Rajjo that Arjun won't let anything happen to her.
Manorama arrives there with Jhilmil and says that Rajjo also won't let anything happen to Arjun. Manorama confirms this and thanks Manorama for saving Rajjo. Manorama says that Arjun has just fulfilled his duty towards Rajjo and Rajjo should also fulfill her duty towards Arjun when it's required. Jhilmil asks Rajjo to go her room. Madhu agrees with Jhilmil and says that she will come in a while as she wants to give her something. Rajjo obliges
Arjun makes Rajjo sit. Arjun says to Rajjo that she just missed an opportunity and not love to not get it again. He assures her that she can get many more such opportunities. Rajjo recalls Arjun's conversation with Pushkar. She says to Arjun that she has only a few months for the deadline. Arjun asks Rajjo who gave her a deadline. Rajjo is about to say. Manorama knocks on the door asking their permission to enter the room. Arjun asks her to come in. Manorama teases Arjun by saying that she has to knock on the door before entering his room as he is married now. She sends Arjun out by saying that she wants to give Rajjo something.
Arjun obliges. Arjun thinks that Rajjo might be sad because of the defeat. He says that he can't see her upset wonders what will happen when he is unable to see her. Manorama gives Rajjo new clothes. She says that they're going to Pushkar's house for dinner and asks her to deck up. Rajjo thinks that Arjun won't like her even if she dresses up well. Madhu thinks that Arjun has to like her even for a night and gives her a wife's rights. 
Pushkar hugs Niharika and Kalindi and expresses meeting them both after a longtime. Arjun keeps looking at the entrance. Chirag assures Arjun that Rajjo will come with Madhu and teases him. As Chirag teases Niharika, Rajjo arrives there along with Madhu. Arjun gets mesmerized on seeing Rajjo. But Rajjo thinks that he doesn't like her appearance, so he is starting at her like this. Madhu greets Pushkar. Pushkar is angry that Madhu brought Rajjo along with her. Sia and the Thakurs compliment Rajjo's beauty. Chirag makes Rajjo stand next to Arjun. 
Everyone has juice. Pushkar raises a toast for Niharika's return. Arjun teaches Rajjo how to toast. Pushkar praises Niharika for winning the race. Rajjo feels bad. Arjun holds her hand to console her. Madhu suggests Arjun taking Rajjo to Pushkar's farm house, as Rajjo is sad. Pushkar has to agree without any option.
Manorama advises Rajjo and Arjun to spend some time alone. Thakurs also ask Arjun and Rajjo to go to the farm house. Arjun agrees, but Rajjo refuses, shocking Arjun and everyone. Madhu and Jhilmil ask Rajjo why she's refusing. Niharika says that it's because of her. She says that she offered Rajjo to join her team and Rajjo accepted it, which shocks Madhu. 
The episode ends. 
Precap: Manorama asks Rajjo to give her time for Arjun and her relationship now. Arjun explains about the honeymoon and asks her to ask Manorama about what will happen on the honeymoon. Manorama says to Rajjo that the couple will consummate their marriage on their honeymoon. 
Click to read
Rajjo 29th December 2022 Written Update: Arjun argues with Pushkar about Rajjo's future