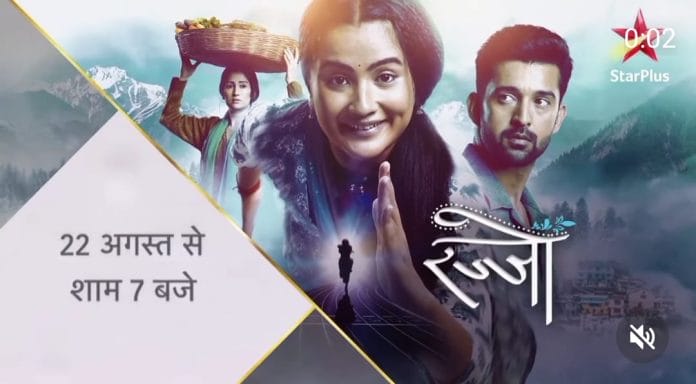 Rajjo Upcoming Story, Spoilers, Latest Gossip, Future Story, Latest News and Upcoming Twist, on Justhowbiz.net
The episode starts with Madhu grinding turmeric that she specially brought from Selam, Tamil Nadu, for Arjun's Haldi ceremony. Swara says to Madhu that she is happy that Urvashi is soon going to become a part of their family. Madhu says that Arjun stayed back in India in a bad situation. He was happy in America. She says that she doesn't want him to go back to America and believes that Urvashi will take care of this, and she will never separate Arjun from her. She advises Swara to plan for her own kids after Arjun's wedding. Madhu asks Swara if she felt that Arjun was faking his happiness. Swara denies. Madhu feels relieved. She says that after the Haldi ceremony, she will watch Arjun closely.
Urvashi and Arjun's haldi ceremony is going on. On the other hand, Rajjo and Vicky are sitting in their Haldi ceremony. Rajjo misses Arjun and keeps looking at her phone. Madhu asks Kalinidi to tie the holy threat for the protection of the wedding around Arjun's wrist. Kalinidi obliges. Haldi is applied to Arjun and Urvashi. There, Manorama applies Haldi on Rajjo's face. Here Chirag and the cousins chase Arjun and hold him. They apply Haldi on his whole face and body. Kalinidi smiles, looking at Rocky. She turns around and finds Chirag.Chirag applies Haldi to Kalinidi. He remembers how he met her secretly with Arjun's help during their haldi ceremony to be the first person to apply haldi to her. He apologizes to her for spoiling her make-up and leaves. Kalindi gets teary.
Uravshi checks Arjun's phone when the latter is busy watching his family dancing. Urvashi finds that Arjun dialed many calls to Rajjo. She fumes in a rage. She takes a step to confront Arjun about the same. But Urvashi's mom stops her and takes her aside. Urvashi's mom scolds Urvashi for checking Arjun's phone. She advises Urvashi to give Arjun a lot of love after their wedding so that he doesn't look at any other girl and to control her anger and uses it when the right time comes against the person who is trying to snatch Arjun from her.
Arjun's family chase Urvashi to apply haldi to her. Seeing this, Arjun remembers him chasing Rajjo and misses her. There Rajjo is waiting for Arjun's call. Rajjo's friend notices that her phone is in flight mode. She notifies the same to Rajjo and removes the flight mode. Rajjo sees Arjun's so many missed calls. She calls Arjun back. There, Arjun hesitates to receive Rajjo's call. Chirag convinces Arjun to receive the call. Arjun obliges.
Rajjo becomes happy hearing Arjun's voice. Arjun and Rajjo get emotional. As Rajjo is talking with Arjun, Vicky's friends come there. They snatch Rajjo's phone and throw it away. They misbehave with Rajjo on the pretext of applying hali to her. Rajjo gets angry and pushes Vicky's friend down. Vicky argues with Rajjo for pushing his friends down. Arjun and Chirag hear this. Arjun gets worried about Rajjo.
The episode ends.
Precap: Rajjo thanks Arjun for saving her. Arjun says that they are both getting married to their respective partners on the same day. They part ways. Arjun is about to put the nuptial chain around Urvashi's neck. Rajjo arrives there and stops the wedding, claiming to be Arjun's wife.
Click to read
Rajjo 29th September 2022 Written Update: Rajjo gets furious