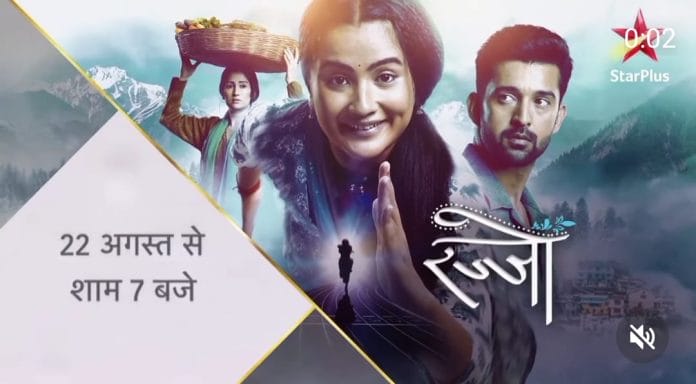 Rajjo  Upcoming Story, Spoilers, Latest Gossip, Future Story, Latest News and Upcoming Twist, on Justhowbiz.net
The episode starts with an inebriated Manorama creating a scene in front of Thakur's family. Madhu accuses Manorama of getting intoxicated herself by consuming alcohol. Manorama asks Madhu to shut up and says that she wants to make a big revelation. She says that Rajjo is always after Arjun, but Arjun is going to marry someone else by rejecting her. She says that Arjun married Rajjo yet he is going to marry Urvashi. Madhu asks anyone to stop Manorama.
The latter asks Madhu to be quiet. Manorama says that Arjun and Rajjo are made for each other and no one can seperate them, not even them. She says that she saw Arjun starring in Rajjo and he can't go away from her as he can't live without her. Pushkar thinks that maybe Manorama really lost her memory so she didn't say Rajjo is her daughter. He thinks that he doesn't need to be scared of her then. Pushkar and Urvashi ask to take Manorama inside. Manorama says that she has yet to make a big revelation. She looks towards Pushkar. The latter asks Chirag to take her inside. Manorama asks Pushkar to stay away from her.
Rajjo asks Manorama why she's talking like that. Manorama says that there's a big secret. Manorama says that Pushkar is a bad man, which shocks everyone. Madhu asks Manorama how she dared to badmouth Pushkar. Manorama says that they don't know about him. She says that Pushkar is a disgusting man. Chirag says not to say bad about Pushkar as he isn't the way she thinks. Manorama says that they don't know his truth. Pushkar thinks that he he has to shut Manorama up. He signs the nurse. He asks Manorama to tell the truth about him, but asks her to stay away from her granddaughter.
Pushkar moves Sia away from Manorama while the nurse injects sedatives into Manorama. The latter says that Pushkar pricked her with something and asks him to show his hands. Pushkar shows his hands. He says that he only wants to keep his granddaughter away from Manorama, who is a dangerous woman. Pushkar thinks that Manorama can't talk now as he injected her with a dangerous medicine. Rajjo tried to take Manorama from there. Pushkar stops her and demands Manorama to tell his truth.
Suddenly, Manorama's eyes and body move weirdly before she faints completely. Arjun becomes worried and goes to Manorama despite Madhu stopping her. Arjun asks the nurse to check the nurse. The nurse checks her and says that nothing serious. Chirag takes Manorama to the room. Madhu apologizes to Pushkar.
Chirag doubts Manorama's action is caused due to the medicine effects. He asks the nurse for the prescription. The nurse says that she will give it later after doing Manorama's checkup. Chirag says to Rajjo that Manorama is right about her and Rajjo and he can form a good team with her. Rajjo becomes emotional when Manorama calls out to her in her unconscious state. She blames herself for Manorama's condition. She is worried about Manorama's health and asks her to wake up. She bursts into tears feeling tired of everything. Chirag consoles her. Jhilmil calls out to Rajjo. Chirag asks Rajjo to go while he takes care of Manorama.
Madhu complains to Arjun about Manorama creating a scene. She says that Manorama tried to prove that Rajjo and Arjun are a couple. She says that it was Rajjo and Manorama's plan. She refuses to bear anymore insults and threatens to harm herself if such things happen again.
The episode ends.
Precap: Chirag and Rajjo are shocked to see Rocky and Kalindi romancing. A drunk Chirag walks on the road. A truck is about to hit him. Rajjo runs to save him. Pushkar threatens Manorama. Manorama takes a vase to hit him. Arjun asks Rajjo where she has gone, leaving her mom. He asks if she has found a rich guy.
click to read:
Rajjo 3rd December 2022 Written Update: