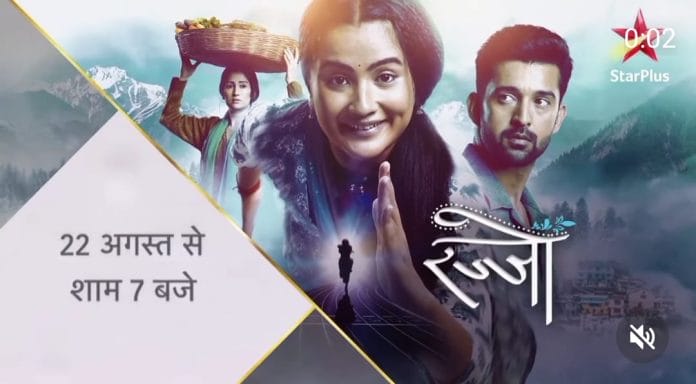 Rajjo Upcoming Story, Spoilers, Latest Gossip, Future Story, Latest News and Upcoming Twist, on Justhowbiz.net
The episode starts with Thakurs arriving to Manorama's room hearing Manorama's scream. They're shocked to see Pushkar holding Manorama by her hair. Arjun asks Pushkar why he raised his hand on Manorama. Pushkar says that Manorama tried to kill him by breaking a vase on his head, but he just turned around and saw her action and prevented her. He shows them the broken vase on the floor. Jhilmil supports her brother and blames Manorama. Manorama denies Pushkar's allegations.
Arjun asks Pushkar why he has come to this room. Manorama thinks that Rajjo was right about Arjun being a nice person. On the other hand, Rajjo is handling an intoxicated Chirag. Here, Pushkar lies that the nurse was hungry and wasn't able to have food, so he agreed to take care of Manorama despite the scene she created earlier till the nurse comes back having food. But Manorama tried to attack him. She tried to run out, maybe to attack someone else in the house, so he tried to stop her. But she started to fight with him. The Thakurs are scared that Manorama could kill anyone of them as they support Pushkar.
Thakurs thinks that it's easy to manipulate this family as they don't use their brain except Arjun. Madhu urges Arjun to throw the insane Manorama out of the house. Pushkar agrees with Madhu. He says that Manorama can harm anyone, including Ddadaji and Sia. He asks Thakurs to send Manorama with him so that he will get her well. Manorama refuses to go with Pushkar and calls out to Chirag and Rajjo. Madhu agrees with Pushkar. She says to Pushkar to take Manorama and gets her admitted to the hospital. Madhu and Jhilmil try to forcibly remove Manorama from the house. But Arjun stops Madhu.
On the road, Chirag says to Rajjo to take him inside the house through the back door. He doesn't want his family to know about Kalindi's affair. He says that Kalindi broke his heart by cheating on him, but he doesn't want her heart to be broken. He says that they are both responsible for their marriage breaking up. Here, Arjun asks Madhu to leave Manorama and ends this matter. Pushkar warns Arjun that he is doing wrong again by going against his family. Thakurs blame Manorama and say that she could attack them again.
However, Arjun defends Manorama. He says that she must have acted violently because of the medicine effects, as she's not like that. He requests all of them to leave. Madhu says that she has no hope that he will change. They all leave. Urvashi tries to talk to Arjun. The latter says not now. Arjun asks Pushkar to leave as Manorama is scared of her.
Pushkar obliges. Arjun asks the nurse to take care of Manorama and leaves. Manorama understands why Rajjo likes Arjun now. She decides not to leave the house till she removes the distance between Arjun and Rajjo. She decides to tell Rajjo the truth about Pushkar after that, so that Arjun stands by Rajjo to fight Pushkar.
Chirag says that if he goes by the main door, Kalindi will get blamed and will get hurt. He says that he doesn't want to see her in pain. He asks Rajjo not to tell anyone about Kalindi's affair, including Arjun. He asks her to promise him the same. Meanwhile, Thakurs urges Arjun to throw Rajjo and Manorama out of the house. Arjun says that Chirag will be hurt if they throw them out and he can start to consumme alcohol again. He asks them to bese Rajjo and Manorama till his wedding.
Rajjo takes Chirag home from the back door and takes him to his room. Sia sees this and asks Rajjo why Chirag needed her support to walk. Rajjo says that he isn't well, so he is feeling weakness. Sia says that Chirag used not talk to her or smile on seeing her, but he started to talk with her and became a good father ever since Rajjo came to this house. Sia is scared of losing Chirag and asks Rajjo to make him fine magically. Rajjo promises Sis to take care of Chirag. Sia kisses Chirag on his cheek, saying I love you dad.
Rajjo asks Sia to go to sleep. Sia obliges. She leaves after saying good night to Kalindi. The latter hugs Rajjo, crying. She thanks Rajjo for taking care of Chirag and Sia. Rajjo asks Kalindi to rectify her mistake. She says that Chirag asked her to take him from the back door so that no one knows about Kalindi's affair and blames her. Rajjo says that Chirag cares for her despite her betrayal. On the other hand, Pushkar says to the Thakurs that he will appoint a nurse to always keep an eye on Manorama so that she doesn't harm anyone. Thakurs agree.
The episode ends.
Precap: Chirag says to Rajjo that she's a princess and she should recognize her prince. Rajjo grows suspicious seeing Naman hugging Urvashi. Urvashi and Arjun dance. Rajjo says that he wants to become Naman's dance partner. She thinks of distracting Naman in her talk and making him spill the truth about Urvashi.
Click to read
Rajjo 6th December 2022 Written Update: Rajjo saves Chirag