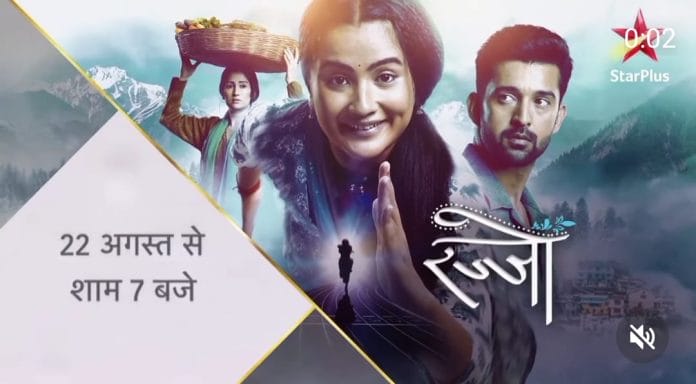 Rajjo Upcoming Story, Spoilers, Latest Gossip, Future Story, Latest News and Upcoming Twist, on Justhowbiz.net
The episode starts with Rajjo saying to Manorama that she is doubting Madhu to be behind Manorama's missing. She tells about Siya overhearing Madhu talking about Magardhal to someone over the phone. She says that she doubts Madhu attacked Nangu Kaka. She further says that Madhu proved her in front of the family mentally ill and tried to send her to the asylum. But she escaped on the way and found Manorama with Nangu Kaka's help. Manorama is shocked to gear this, but wonders why Madhu would do this. Rajjo says that either Madhu got blackmailed to do this or she teamed up with Pushkar. Rajjo wants to expose Pushkar immediately. But Manorama stops Rajjo. She says that Pushkar and Madhu are rich and powerful people, so they need proof against them to expose them.
Rajjo agrees with Manorama and plans to do spirit drama to force Pushkar to confess the truth. Manorama asks Rajjo to promise her that she won't tell Arjun the truth before getting any proof. Rajjo promises her the same. Manorama hugs Rajjo. Rajjo wonders what happened in the past. Manorama instructs Rajjo to act as fainted till Arjun finds her. The FB ends. 
Rajjo and Manorama are happy that their plan works perfectly till now. However, Rajjo feels guilty for lying to Arjun. Manorama assures Rajjo that soon everything will be fine, then Rajjo can start a fresh life with Arjun. Rajjo says that she kept all necessary food items for Manorama in the room where she used to stay. She leaves asking Manorama to take care of herself. 
Arjun gets soup for Rajjo. He feeds it to her. He cares for her. Rajjo apologizes to Arjun in her mind. Arjun assures Rajjo that Manorama will be fine and they will soon trace her. Rajjo's guilty feeling increases by seeing Arjun's care for her. Rajjo decides to tell him the truth and convince Manorama later. But their talk interrupts by Chirag's arrival. Chirag asks Arjun why he brought Rajjo back home. He says that Rajjo needs treatment and reminds him about the incident happened with Siya.
Chirag says that Rajjo is like his sister and wants her betterment. Arjun refuses to leave Rajjo alone in this condition. He says that Rajjo can't harm anyone in the family. Chirag asks if he can give guaranty for that. He refuses to trust Arjun's decision. Arjun and Chirag have an heated argument over this. Niharika stops them. She says to Chirag that they should support Arjun instead of scolding him. She says to Arjun to smile now and celebrate his birthday as Rajjo returned home. Rajjo is surprised to hear this and feels guilty to give him pain on his birthday. Niharika says that it's final that they will celebrate Arjun's birthday tonight. Arjun doesn't seem interested.
Rajjo made a handmade paper flower for Arjun to gift Arjun on his birthday. She says that they can celebrate Arjun's birthday grandly after exposing Pushkar. On seeing Arjun coming out of the washroom, she places the flower on the bed and moves near the window. Arjun sees the flower and remembers a FB in which he was showing Rajjo the costly jewels that he was going to gift Kalindi on her birthday and he says to Rajjo that he can happily accept even if she gives him a flower when she gets upset that she can't afford such costly gifts. Arjun is happy Rajjo remembers this.
Arjun goes closer to Rajjo and holds her hand, looking romantically into her eyes. Their moment gets interrupted with Niharika's arrival. Niharika says that she kept gift for him and he should accept it. She points the gift that she placed on the night table. But Arjun misunderstands that she's pointing the flower placed on the bed. He gets upset thinking that Niharika gifted her that flower, not Rajjo.
Madhu says to Pushkar to stay in Thakur's house if he is scared to go to his house. Pushkar is scared that Manorama's spirit has come here too and checks under the bed and closes the window. Madhu scolds Pushkar and says that they are close to their intention, but his behavior can expose them. Pushkar says that he brought a solution to escape from the Manorama's spirit. He takes out a gun. Madhu mocks Pushkar for thinking of using gun on the spirit who is already dead. She says that they could organize a puja for his peace. She leaves. On the other hand, Arjun puts Rajjo to sleep. He takes out a duppata and looks on at Rajjo who is sleeping.
The episode ends.
Precap: Rajjo holds Pushkar by his shervani's collar and asks him where her mom is. Kalindi asks Rajjo to leave her dad. Rajjo says that Pushkar is also her dad shocking everyone. Jhilmil and Kalindi say that Rajjo became completely insane. Arjun asks Rajjo why Manorama didn't tell them about this earlier.
Click to read
Rajjo 6th February 2023 Written Update: Rajjo and Manorama's plan to make Pushkar confess his crimes