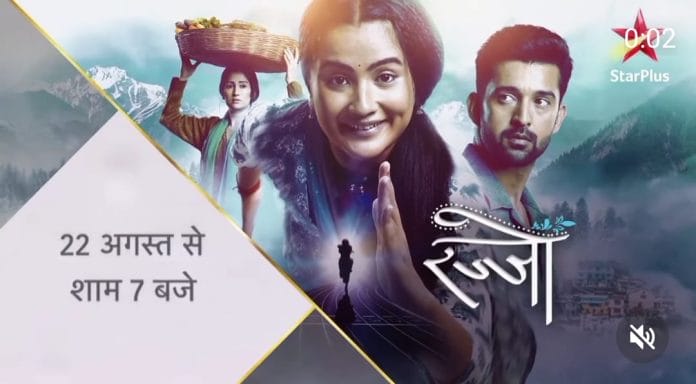 Rajjo Upcoming Story, Spoilers, Latest Gossip, Future Story, Latest News and Upcoming Twist, on Justhowbiz.net
The episode starts with the villagers refusing to call the police. Vicky urges the villagers to make a decision fast. Rajjo scolds Vicky and calls Arjun her God. Just then, they notice Manorama. Vicky drags Manorama and tries to manipulate her against Rajjo and Arjun. Arjun asks Manorama to change her decision to say no as Vicky is a bad guy. Rajjo says to Manorama that Vicky kidnapped her and refuses to marry him. Sharpanch says that he will decide that and asks Manorama if she thinks Vicky is the right guy for Rajjo.
Meanwhile, at Thakur's mansion, Chirag and Swara plan to distract the family's attention until Arjun returns. Here, Manorama says that she doesn't know. However, the Sharpanch declares that Rajjo should marry Vicky as her wedding was fixed to Vicky with Manorama and Rajjo's consent. He threatens to kill Arjun if he intervenes and asks him to leave. There, Urvashi gets adamant to go to the parlor to get ready. Madhu says that it's a bad omen to go out just before the wedding. Urvashi reminds her that even Arjun has gone out. Madhu agrees without any other way. 
The Sharpanch asks Arjun to leave if he wants to save his life. Arjun turns his head around and looks at the temple. Rajjo thinks that Arjun is looking at the gun which is in front of the temple. He holds Rajjo's hand. They run to the temple. Rajjo picks up the gun while Arjun takes the vermillion and fills Rajjo's hairline and puts the nuptial chain around her neck. Rajjo stands stunned. The chunari flies due to the wind and falls over Arjun and Rajjo's heads. Rajjo removes it. The villagers are shocked to see Arjun marrying Rajjo. Arjun declares Rajjo as his wife and threatens to shoot whoever will say anything against her or will force her. Vicky tries to escape. The police arrive there and catch Vicky. The inspector says that Vicky is a smuggler. Manorama slaps Vicky. The police arrest Vicky. The inspector thanks Arjun for helping them to arrest Vicky. He asks Arjun to come to the police station for a while to record his statement against Vicky. Arjun agrees. The police leave with Vicky. Arjun looks at Rajjo. 
At Thakur's mansion, Madhu, Jhilmil and Kalindi urge Arjun to open the door. Chirag is inside that room and wonders how to handle the situation. He gets an idea. He comes out and says that Arjun is in the washroom and his shervani torn up. Madhu takes the shervani to stitch it. Chirag wonders where Arjun is. Meanwhile, Arjun and Rajjo are sitting in the police station. Rajjo says to Arjun that she knows that he married him to save her and it's not a real marriage. Arjun apologizes to Rajjo and says that he didn't get any other way to save her. Rajjo says that she understands and says that she was saved and thanks him. Arjun says that he has to go home and wonders where his phone is. Rajjo says that he has to go as it's his wedding that day. They both look at each other. 
The episode ends. 
Precap: Arjun and Urvashi are performing the wedding rituals. Rajjo arrives there. She stops the wedding. 
Click to read
Rajjo 7th October 2022 Written Update: Vicky manipulates the villagers against Arjun and Rajjo